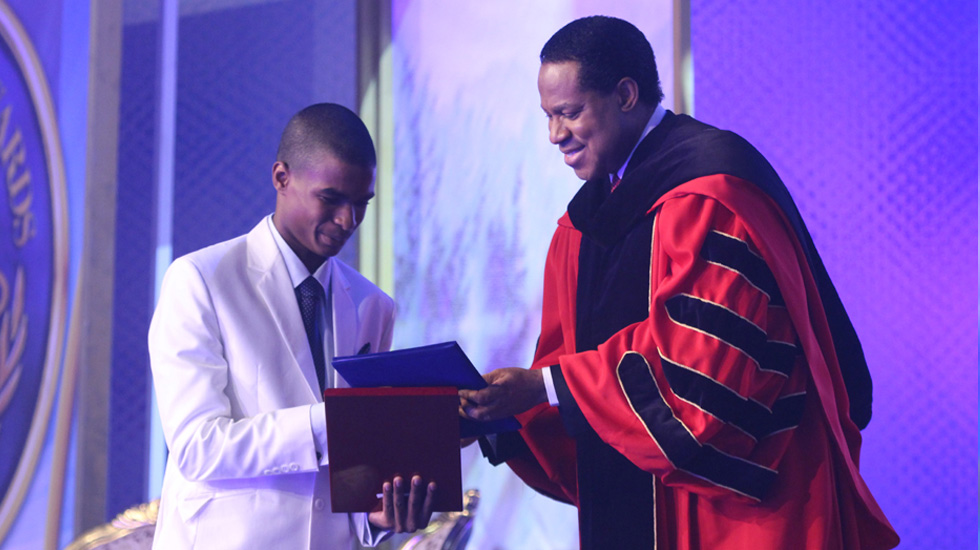 Shawns Samoisy wins the Future Africa leaders award
When I received the mail informing me that I had been nominated for the Future Africa Leaders Award, my heart was full of unending joy. This was the first recognition our ministry would receive.
I had some challenges obtaining visa, I spent all my pocket money in obtaining visa. I received my visa forty minutes before takeoff.  I had to change my clothes on the plane despite the turbulence. I arrived at the Nigerian airport and the officers were preventing me from entering as it was my first stay. At last, they let me go on hearing that I was to be awarded. All these brought me joy, because it made me realize that something big awaits me! I knew that the greater challenge I face, the greater my reward would be.
When I got into the Auditorium during the 31st night service, I knew my life would never remain the same again. Everyone was worshiping God and speaking in tongues. I joined in and prayed. When it was time for the award, my name was the first to be called. I felt so blessed and special! I shook the Man of God, Pastor Chris and was recognized around the world for my work in ministry. It was a day I will never forget for the rest of my life. Pastor Chris, further announced that the award is with a price of 10,000 US Dollars which I was given before I left Nigeria.
Meeting all the awardees was really fascinating and fun. I was really amazed by how humble all of them were despite obtaining this internationally recognized award. I was also blessed getting to know them and understand the works they do to improve their countries. I could see that all of them had personal time with the Spirit of God every day.
We are looking forward to unite and do something big to bless Africa. I am also confident that Mauritius will never remain the same again. I have started planning to do more outreaches, train more leaders and continue with the work. Praise God!