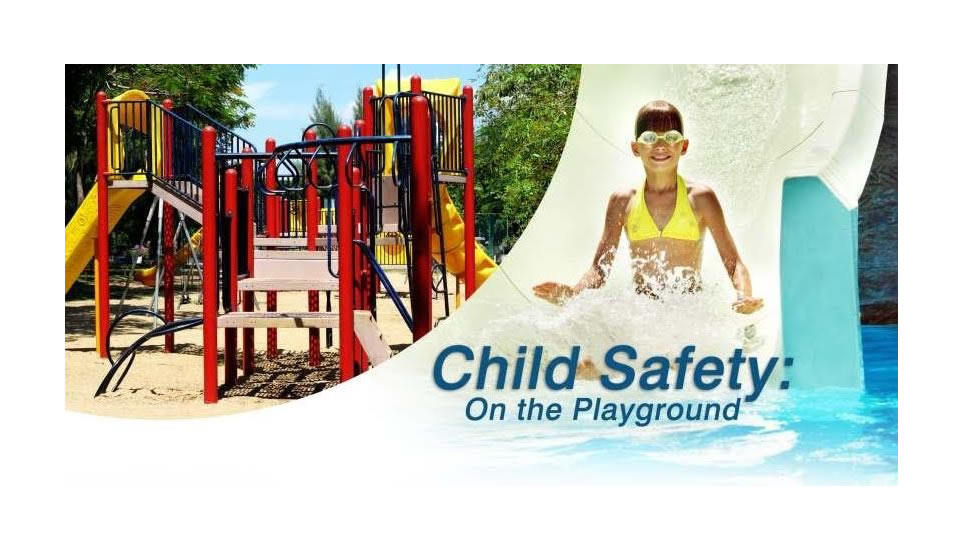 Playgrounds are fun spots for children of all ages, and provide a place where children can run and jump about freely as they play with their friends. Usually an outdoor place, playgrounds allow children stay active, and thus healthy.

However, a fall or some other accident may cause serious injuries to children. Hence, it is imperative that adults and caregivers put safeguards in place to avoid such in the playground. The following are a few tips for ensuring child safety in the playground.

Choice of Playground: Consider the following when choosing a playground for your children;
- Choose structures that are appropriate for your child's age and developmental level.
- Choose the right surfaces – sand, wood chips or other synthetic surfaces – that are soft and can absorb a child's fall.
- Ensure your child can reach or climb the available equipment on their own.
- Check equipment and surrounding area to ensure safeguards like handrails and barriers are in place and functional.
- Inspect ensure that the environment is clean and garbage free, and that there are no sharp objects or other harmful substances.

Your Child – Getting Ready and on the Playground:
- Dress them properly, there should be no drawstrings or cords that may get caught in equipment. For instance, you may opt for a neck warmer rather than a scarf in warm weather.
- Safely store items such as skipping ropes and helmets while on the playground.
- There should be adult supervision at all times, especially for children under age 5.
- Teach your child to use the equipment safely and correctly, e.g. there should be no climbing or swinging when the equipment is wet.
- Teach your child to learn to take turns while sharing with other children. Closely observe their interactions to identify risky or dangerous behavior where they exist.
- Around pools or splash pads, kids should wear proper waterproof shoes and they should walk, not run. Never leave children (of any age) by the water without adult supervision.

Other Tips for You:
- Be vigilant and prepared at all times for any eventuality. Learn first aid in case your child is injured. Also have contact details for emergency service agencies handy, and ensure other caregivers have them if you are unavailable to attend to the kids personally.
- When there are concerns on playground safety that you cannot readily address, contact the appropriate authorities.