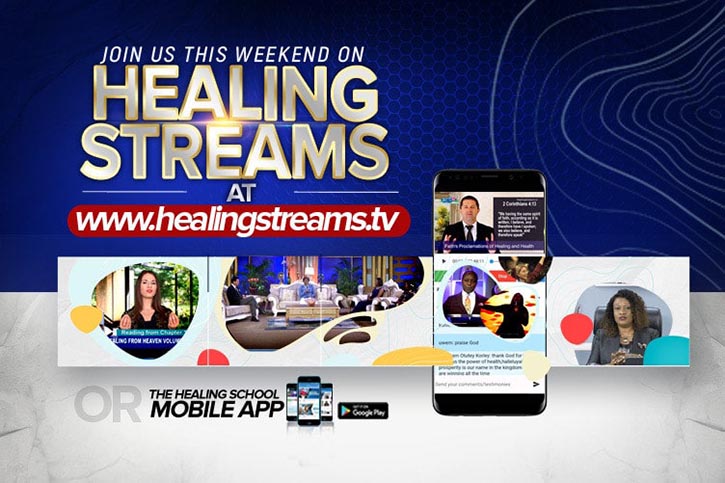 According to the World Health Organization (WHO), statistics show that 98% of people in the world are sick, meaning 98 out of every 100 persons are suffering from a disease or the other. However, God's will for mankind is to live in health, wealth and prosperity as the Scripture shows in 1 John 3:2, "Beloved, I pray that you may prosper in all things and be in health, just as your soul prospers."
Healing Streams.TV is that online channel that connects you to a world of the supernatural, where anything is possible. The weekly 2-day program beams live to a global audience around the world for 6 hours on each day of the weekend.

In past episodes, we have had people participate with glorious expectations for a healing miracle, solutions to dire needs, and refreshing by the power of God. Amazing testimonies from previous episodes of the program have continued to pour in from all around the world. Many have had new stories to tell; new stories of joy unspeakable and truly amazing tales of triumph.
While some have testified to several amazing healing miracles, others have attested to an increased knowledge of the principles of healing and divine health, following their participation in the weekly broadcast of Healing Streams.

Angelique from Trinidad & Tobago shares: "I thank God for this program. It has been such a blessing to me. While affirming the Faith's Proclamations during one of the broadcasts, my spirit was stirred and the Word of God came alive in me. I began speaking with renewed faith. I have been delivered from fear and unbelief. I'm also healed of back pain and fibroids."
"I received healing during the prayer segment. Before, I was down with fainting spells, shortness of breath, and weakness. I thank God for my miracle; I'm perfect in Jesus' name," ChiomaOlor from Nigeria testifies.

To be participate in the upcoming episodes of Healing Streams, tune in every weekend, Saturday and Sunday to www.healingstreams.tv or the Healing School mobile app, each day at 4PM (GMT +1), and watch a miracle come your way!