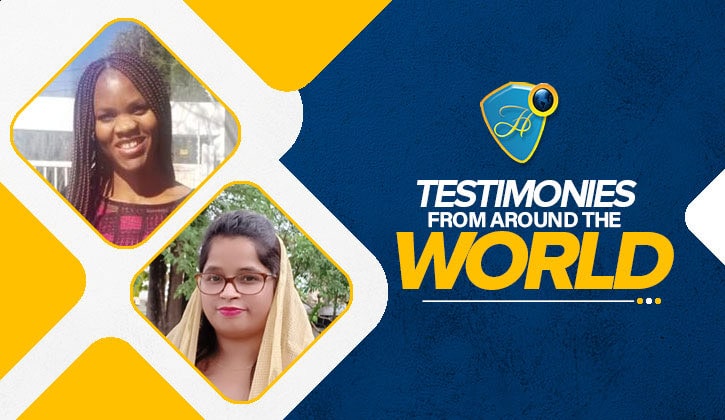 Nawab Mohsina Ahmad from India testifies: "I was a Muslim, and I gave my heart to Christ 7 years ago. It was a difficult time in my life as my family rejected me because of this decision. I was homeless. I also had to stop schooling. As a result, I became despondent and I needed a touch of God's power and a divine intervention in my affairs of life. A friend introduced me to the Healing School Prayer Network where I joined the saints around the world in prayer and fellowship. Over time, I felt connected to God, my relationship with Him grew stronger. I must say that that was when my story changed. I've received many miracles from this platform, some of which are supernatural healing and a scholarship to further my studies again. Wow! I thank the man of God, Pastor Chris, for the Healing School Prayer Network. My life has not been the same. I'm a bundle of testimonies now. Glory to God!"

Aluwani Ramukosi from South Africa shares: "I had a dream; I saw myself sitting at the park and I saw earthworms on my right hand. I looked away for a second, and when I looked back, the worms had entered my body and I suddenly became stiff. That was how it all started. In the month of September, I started feeling strange movements around my joint on the right leg, but I ignored it. The following week, things got rather bizarre. I was feeling all sorts of movements all over my body; it was stiff and painful all over. I couldn't sleep at night. I kept praying in tongues and declaring my divine health. All these were going on when I came across the Healing Streams Live Healing Services. I participated in the program all 3 days, and from the first day, my body began healing. I held on to every word that was ministered and every prophecy that came forth. I made war with it for those 3 days and by the time the program ended, I was restored completely. I received my healing and now I'm free! Thank you, Jesus!"

To stay connected to the Healing School and be a part of the transformation happening in the lives of many all around the world, please subscribe to our weekly newsletter.