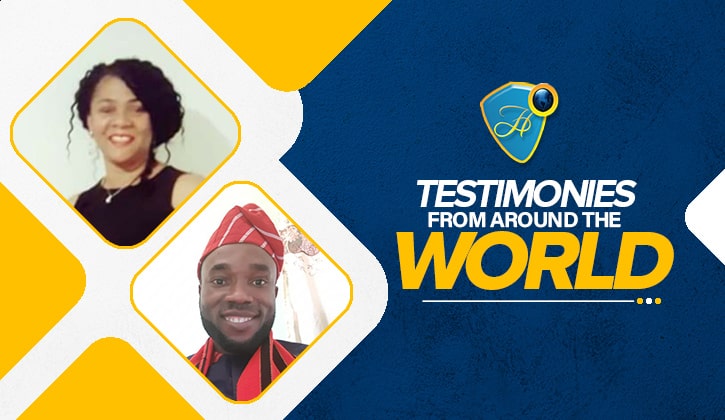 Juliet Bucher from Switzerland testifies: "For a while, I was seriously down with sickness. It got worse to the point that had to visit the hospital for a check-up. I was diagnosed with Covid-19 and pneumonia. I was rather perturbed, but being a member of Healing School Cyber Church, I decided to deal with the matter spiritually. I joined my faith with that of many others during one of the services, and I prayed intensely for a change. I received my healing right in that moment. Praise God! Now, I can do the things I couldn't do before. I bless God for this miracle and I thank the team at Healing School Cyber Church for praying with me."

Thelma from the Philippines: "I'm grateful to the man of God, Pastor Chris Oyakhilome, for the gift of the Healing School Prayer Network. Being a member of this platform has transformed my spiritual life and every other area of my life. I'm nothing compared to my past. The Word of God keeps working and producing results in my life. Recently, I got my own apartment and a new job. I'm super excited about all that God is doing in my life. Glory to God!"

Zoe James from Nigeria shares: "God did a marvelous miracle in my life, one I'd continually be grateful for my entire life. It happened on a fateful day when I was preparing to lead a prayer session with members of the Healing School Prayer Network. I heard an unusual loud noise in the compound where I live. I was unperturbed. But as I began praying, my wife beckoned on me that something terrible had happened. I insisted she keep calm, and I continued praying. As soon as I finished, I found out that a dead body was lying right in front of our door. It happened that one of my neighbors who had a misunderstanding with his sibling had just committed a murder, and he attempted to frame me for it. Somehow, one of my neighbors who saw the incident narrated the whole story to the police and that's how I was vindicated. I thank God for saving my life and my family from trouble. Indeed, prayer works!"

To read more inspiring updates from Healing School, please subscribe to our weekly newsletter.