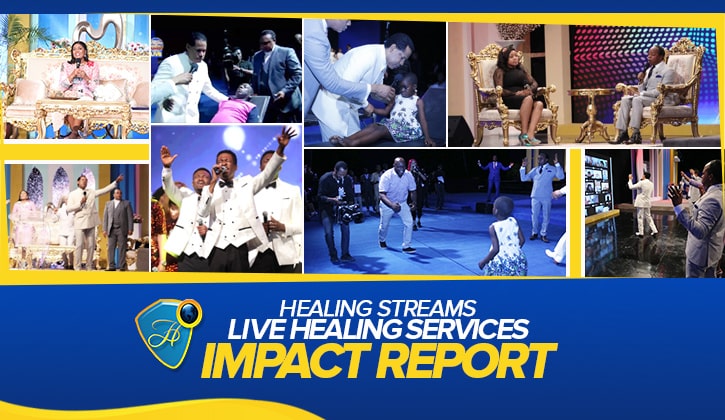 Friday 12th to Sunday 14th of March 2021 marked a special time of great rejoicing across the globe as miracles took place in multiple locations at the largest ever healing crusade to be witnessed by the world. The Healing Streams Live Healing services with Pastor Chris was broadcast live to a teeming global audience across all continents via the Healing Streams TV, Healing School mobile app, and various social media platforms, with 4.1 billion unique logins in the final session of the program.

There was remarkable and unusual grace for change in every aspect of life, as every participating individual desired. For 3 days, the power of God connected the whole world in unprecedented healings, miracles, signs, and wonders.

From the opening remarks by the Director of the Healing School, Pastor Deola Phillips, many were already being blessed. "It's a season of phenomenal miracles! What an experience the whole world is about to behold. If you're joining today, there is a blessing for you. Complete wholeness and perfect soundness is possible through the Name of Jesus. All you have to do is believe. Don't settle for less. Let your faith rise up and call on the Name of Jesus as the man of God, Pastor Chris, ministers, and you will step into perfect soundness," she enthused.

The Loveworld singers led in rapturous songs of worship to God, creating an atmosphere of faith that prepared the hearts of participants globally to receive from God throughout the program.

Senior ministers of the Healing School including Rev. Tom Amenkhienan, Rev. Ray Okocha, and Evang. Dr. Eddy Owase, featured in stirring talk shows that focused on how to take full advantage of what God would do in this glorious season.

"Angels are ready right now. Nothing can stop you from receiving your miracle. Just pay attention, your testimony is next," said Reverend Tom.

Reverend Ray explained more: "There are angels in every place. And with the working of miracles by the power of God, we will shout for joy."

A few testifiers were present each day to attest to the marvelous in their lives from past programs organized by the Healing School. Talking about the importance of this Evangelist Eddy said, "As you hear these testimonies, let faith come to you for your own miracle."

Fredrick from Tanzania said, "Jesus can do it for you," as he testified of how he was healed of HIV and kidney and liver problems when he received a word of prophecy during the December 2020 Healing Streams Live Healing Services "Right there, I knew I was healed! I went for a checkup later, and I tested negative for HIV. I breathe normally now, no more kidney or liver abnormalities! No more pain!"

Ruth shared her testimony thusly: "The migraines stopped, no more stomach issues, or speech distortion. None of the symptoms came back. It's just been a life of glory. I haven't needed any medication since December edition of the Healing Streams Live Services where I got healed. Glory to God!"

Signaling the arrival of the man of God, Pastor Chris, an uproar of excitement filled the atmosphere and various Healing Centers and virtual centers across the world. Full of the Holy Ghost, Pastor Chris exhorted: "Because Jesus is loving and powerful, he'll do anything for you. Don't look at man, look at Jesus, he's the one that truly cares for you. Trust him! Wherever you are, trust Jesus. If you trust him, He'll change your life, it doesn't matter for how long you've suffered." The man of God imparted the gift of healing to the live audience, participants from Healing Center, those watching from their homes and offices, and even in hospitals and prisons. Through online connection, the whole world experienced the incredible impact of the power of God that was being manifested, with healing and miracles following. As prophetic utterances came forth from Pastor Chris, it brought deliverance, restoration, and completeness.

From South Africa: "As the man of God was praying for the sick, I put my hand on the lump that was in my right breast. Later, I checked for it and found that it has disappeared. Praise God!"
From Saint Vincent and the Grenadines: "My friend suffered from muscular dystrophy for 42 years and was on a wheelchair. Now, her range of motion has increased and she is doing some back exercises. She is up and walking. Glory to God!"

From Germany: "My father has been suffering from stroke for 3 years, and paralysis of the brain. Now he is healed and is singing. My mom is also healed. We have been healed in Jesus Name."

In the closing moments of the final session, Pastor Chris exhorted: "Many of you will discover that you have been healed. The change has taken place. You'll notice sudden changes." He also emphasized that children were being healed and tremendous miracles had taken place all over the world.

Myriads of testimonies were sent in during the program, and even many more continue to send in their testimonies. It was an appointment for total transformation by God's power. Many destinies were rewritten, hope was restored, and all manner of diseases checked out in the Name of Jesus. Billions who participated received more grace for a new level, and received a special blessing to walk in divine health henceforth. Glory!

To read more testimonies, follow the Healing School Superuser on Kingschat.