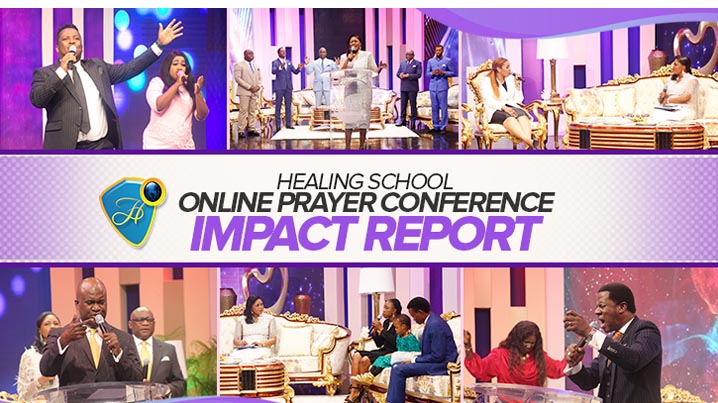 It was a weekend of non-stop prayer, miracles, answers, and blessings at the June 2021 Healing School Online Prayer Conference. The historic 24-hour prayer program was one with great impact; dispensing healing, salvation, and miracles to billions who connected live from every continent of the world.

Several participants expressed great expectations and were geared up for a time of transformation. Shingirai from Australia: "I am very excited about the Prayer Conference and I'm expecting that my prayer life will be catapulted to another level. As we pray all over the world, tremendous changes will happen in the name of Jesus."
Frederick from South Africa enthused: "I'm expectant for a miracle and I know that my life will never remain the same again."

In her opening address, the Chief Executive Officer of Loveworld Inc. and director of the Healing School, Pastor Deola Phillips, welcomed everyone participating online and via the Loveworld Networks to an awesome gathering in the unity of faith and in the authority given to us in Christ to usher in seasons of mercy and grace for the sick through prayer. "If you have a healing need, get ready to receive. What you have to do is make sure that you are expectant. Make sure that you are focused. Let the Word of God that will be ministered allow faith to rise in your heart," the esteemed director declared excitedly. Present also on the set were distinguished ministers and partners of the Healing School, including Pastor Lanre Alabi, the director of the Loveworld Church Growth International, Pastor Tony Aduroja, the zonal pastor of Christ Embassy UK Region 1, Zone 2, Pastor Dipo Fisho, the zonal pastor of Christ Embassy Abuja Zone, and Pastor Obi Umeasiegbu, the zonal pastor of Nigeria South-South Zone 1.

The program line up built inspiring thoughts into the hearts of the participants to pray effectively, and faith to receive divine healing for any sickness, disease, or infirmity. As insightful discussion panels unfolded, highlighting the impact of the Streams Live Healing Services with God Pastor Chris, Healing Streams TV, Spread Faith Campaign, and the various outreaches of the Healing School, the infallibility of God's love, compassion, and miracle-working power was revealed.

Narrating her miraculous healing from asthma after 55 long years, Caroline Ehlers shared: "I have had this condition every day of my life since birth. I was often off school. I was sick a lot, not being able to breathe properly. I got my healing through the Healing School Prayer Network. Hallelujah!" Another testifier, Temitope, shared her life-changing experience at the Healing Streams Live Healing Services, where she became thyroid-cancer-free after her encounter with the healing power of God. Since after being healed of cystic hygroma at the Live Healing Services, Michelle Sunny and her parents now live in perpetual joy and happiness. Kesiena Magbebor also relived her moments at the Live Healing Services, where she received healing from breast cancer, and presently enjoys divine health and spiritual advancement. Jasmin Domacasse not only became free from breast cancer and the fears that hitherto bound her but is now an ambassador of healing to her world. Each testimony caused the Bible to come alive, confirming that "Jesus Christ is the same yesterday, today, and forever."

The prevailing power of God was unleashed during the intercessory prayer segments from different nations of the world at the conference, bringing God's mercy and grace to the lives of many more. There were moments of change for hopeless situations and above all, to create the perfect circumstances for all those desiring to participate in the July Healing Streams Live Healing Services with Pastor Chris. Christians who were sick were also specially brought before the Lord in fervid prayers.

The climax of the conference was reached when the director of the Healing School, Pastor Deola Phillips, began to pray for the sick. Instantly, there was divine intervention for many watching the program, and testimonies of healing poured in from homes and various healing centers.

Philomena Henewaa from United States
Glory to God! I thank God Almighty for healing me of back pain and severe body pain that I have suffered recently. As we were praying and Pastor Deola said to do what we couldn't do, I did that and the pain is totally gone. Thank you, Pastor Chris, for responding to the call of God upon your life for the Healing School.

Fabienne from the United Kingdom
I have received my healing! Thank you, Jesus! I had a heavy weight and pain on my chest, but during the program and as Pastor Deola prayed, I got healed and my chest is now free of pain. I am grateful for this healing.

John Musongole from Zambia
I received healing in my sight, blood, chest, and my skin. I have been made whole! Thank you, Pastor Chris and Pastor Deola Phillips, for this impactful Prayer Conference. Indeed, the June 2021 Healing School Online Prayer Conference has been a foretaste of the supernatural that is anticipated at the July Healing Streams Live Healing Services with Pastor Chris.

The Healing School continues to bear God's healing power to the ends of the earth, ministering healing, hope, and restoration to the sick. Glory to God!
To be receive updates about the July Healing Streams Live Healing Services with Pastor Chris, please subscribe to our weekly newsletter.