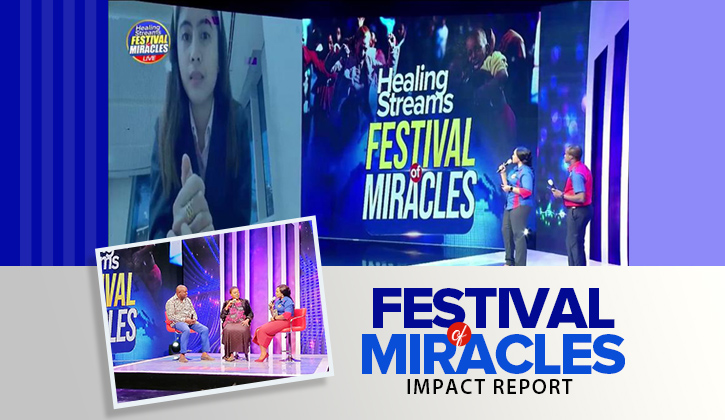 The July edition of the Healing Streams Live Healing Services with Pastor Chris was an avalanche of the miraculous. Billions from all walks of life from every continent participated in this life-transforming program from homes, healing centers, hospitals, cars, and several other locations via online connections. Countless lives were changed and destines re-written. For many who received miracles at this glorious event, their stories were turned around for good; their mourning turned to dance and their faith restored.

Prince from Australia shares: "Glory to God! I am healed! Since I had a motorbike accident in 2010, I had been dealing with severe pain in my left ankle due to a bone fracture. Each time I attempted to wear heavy boots or shoes, I suffered a swollen ankle. But during Pastor Chris' ministrations to the sick during the live Healing Services, I received my healing. No more pain! Hallelujah!"

Dennis from Ghana testifies: "I got healed of a pain in my testicle that had been on for four years. When Pastor Chris was ministering, I felt a sharp pain in my testicle through the waist and got relieved. Immediately, the pain seized. I am totally healed. Praise God!"

Yewande from the United Kingdom exclaims: "I got healed of an ovarian cyst, pelvic ulcers, and loss of my sense of smell and taste. I give God all the Glory for his faithfulness."

Testimonies of diverse healing miracles and transformed situations have continued to pour in from all around the world; so much that it birthed a 10-day special program tagged "Healing Streams Festival of Miracles", where many striking testimonies were celebrated.

And, Yes! The celebration of God's goodness continues at the upcoming Global Miracle Faith Seminar. This program holds from Friday, August 20 to Saturday, August 21 by 4 p.m. (GMT+1). It promises to be another great experience with the supernatural.

The broadcast will be live on www.healingstreams.tv or the Healing School Mobile App.