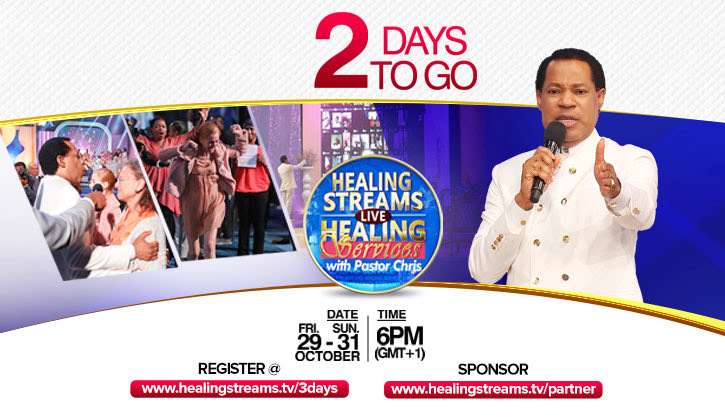 Hurray! It's 2 Days to Healing Streams Live Healing Services With Pastor Chris!
All around the world, there is a sense of rising anticipation as the Healing Streams Live Healing Services with Pastor Chris begins in 2 days, from Friday 29 to Sunday 31, October 2021.

Resulting from the tremendous impact of the previous editions of this healing crusade, countless from around the world have attested to the transforming power of God, having received diverse healing miracles, testimonies, and blessings.

One of such is Roseline Pullam whose life was divinely metamorphosed as a result of her encounter with the healing power of God at the July edition of the Live Healing Services. Prior to this time, her life was gradually ebbing away as she suffered from mixed connective tissue disease and interstitial lung disease. Both conditions caused her misery and left her without much hope for recovery. Her story took a new turn when the man of God, Pastor Chris, cast out the devil that plagued her body with sickness. Today, Roseline lives in absolute health, no longer subjected to the use of an oxygen tank. Grateful for God's goodness in her life, Roseline enthused, "My life is a testimony."

Many all over the world are excited to be a part of the October edition, as the glory of the latter house will surpass that of the former. And as a result, they are extending the opportunity to tell the untold about this life-transforming healing program with the supernatural via door-to-door outreaches, visits to open places, and lots more.

Having witnessed the miraculous power of God in the past editions of the Live Healing Services, many have expressed their expectations for an even greater manifestation of God's power for the October Healing Streams Live Healing Services.

Pastor Sandra Osorio from the United States says, "I know people who are sick are going to be healed because it is the desire of the Lord."

James from South Africa says, "This is the set time for the miraculous. The power of God will be present to heal and transform lives."

Do you desire healing in your body or a transformation in your life or for a loved one? God is more willing to make your miracle happen, and so He has orchestrated this destiny-altering event.

The edition promises to be more glorious, greater, and the largest healing crusade ever. So, expect to receive something from God.

You can participate in this life-transforming program by
• Confirming your participation and inviting someone to register @ www.healingstreams.tv/3days
• Sharing the program to host your invitees in participation @ www.healingstreams.tv/virtual
• Giving for the program @ www.healingstreams.tv/partner

Check this space for more exciting news updates from the Live Healing Services.

See you there!