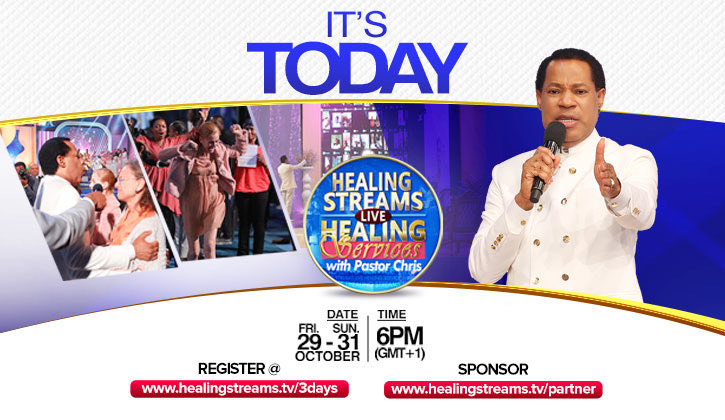 Today marks the beginning of the much-awaited Healing Streams Live Healing Services with Pastor Chris. Glory! Countless all over the world have looked forward to this day, in full preparation with unceasing prayer, an invitation to loved ones and lots more, and now, it's finally here!

Every edition of the Live Healing Services has been a special time with the Lord, and through it, we have experienced and recorded innumerable testimonies and healing miracles, as the healing power of God penetrated different locations from where people participated worldwide.

At the most recent edition that was held in the month of July, Mike Huang, who struggled with complications from a brain tumor and hip injury, received a divine touch from the Master, and in an instant, all the complications such as memory loss and double vision that he suffered as a result of his conditions were all gone. Today, he is a complete picture of perfect health and he testifies of a supernatural turnaround.

Elisiva from Tonga also got healed after being deaf for 17 long years. Just as the man of God, Pastor Chris, minister the word with power, her faith was activated and as she touched her ears, her hearing was restored! Praise God!

Here is the good news; that season of miracles begins today with the October edition of the Healing Streams Live Healing Services! It's that time to connect to the atmosphere of faith and the supernatural, where anything is possible and history is set to repeat itself in a greater light.

Everyone who desires a miracle will receive one; the blind will see, the lame will walk; the dead will receive life, and many will testify of transformed situations, all to the glory and power in the Name of Jesus. This divine appointment with God is open to all and it promises to be an experience of a lifetime. Starting today, Friday 29 – Sunday 31, October 2021, the power of God will move all over the world, changing lives and transforming nations across the globe.

Don't miss this! Clear your schedule now and prepare to bask in God's awesome presence where limitless possibilities abound. To be a part of the Healing Streams Live healing Services, kindly log on to www.healingstreams.tv/3days, or via the Healing School mobile app by 6pm (GMT+1) daily, with your friends, family, neighbors, colleagues, and associates. You can also sponsor the program @ www.healingstreams.tv/partner

See you there!