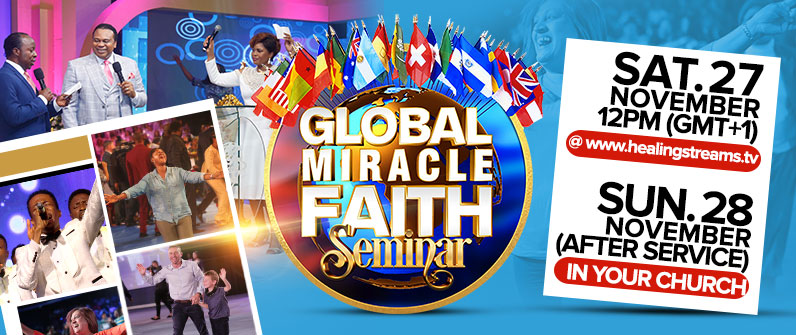 It's a new ministry year, a new season, and a time for miracles and wonders. This week, the Global Miracle Faith Seminar takes place on Saturday and Sunday, and you don't want to miss it. The Healing Streams Live Healing Services may have ended in October, but the river keeps flowing, and it will never stop.

Get ready; on Saturday, November 27, and Sunday, November 28, we are about to witness the healing waters that the prophet Ezekiel saw flowing into every man's world. You will watch and listen to the testimonies of people from all over the globe who received healing during the Healing Streams Live Healing Services with Pastor Chris, lift up your heart and your voice in songs of worship, and best of all, listen to the Word of Truth that created the universe and calls those things that are not as though they were.

If you know anyone who is sick in body or mind, this is their hour; you can create a healing center at www.healingstreams.tv/virtual and invite them to watch with your unique link. One thing is certain; the same Word and the same Spirit that brought healing and grace to more than 6.5 billion people during the October 2021 Healing Streams Live Healing Services with Pastor Chris, is still alive and active and will cause a transformation in the life of everyone who believes.

During the last edition of the Global Miracle Faith Seminar which was held in August 2021, several amazing miracles were recorded to the glory of God.

Prisca from the UK reported, "I had been suffering from a skin condition, but now it is gone."

Jacqueline from the Congo testified, "I had been suffering from hemorrhoids for 32 years, but God healed me during the ongoing Global Miracle Faith Seminar. Glory to God!"

Chioma from the United Kingdom wrote, "I received healing for my body during the Global Miracle Faith Seminar session yesterday. As Pastor Deola was praying, the pain I had been feeling in my chest and my throat left me. Also, the rashes and eczema that I had on my neck disappeared completely. Hallelujah!"

Just like Jacqueline, Prisca, and Chioma, you too can receive your miracle. The date is Saturday, November 28, 2021, the time is 12 p.m. GMT+1, and the place is wherever you are. Just go to www.healingstreams.tv and participate with an open heart.

To partner with the Healing Streams, please visit www.healingstreams.tv/partner

God bless you!