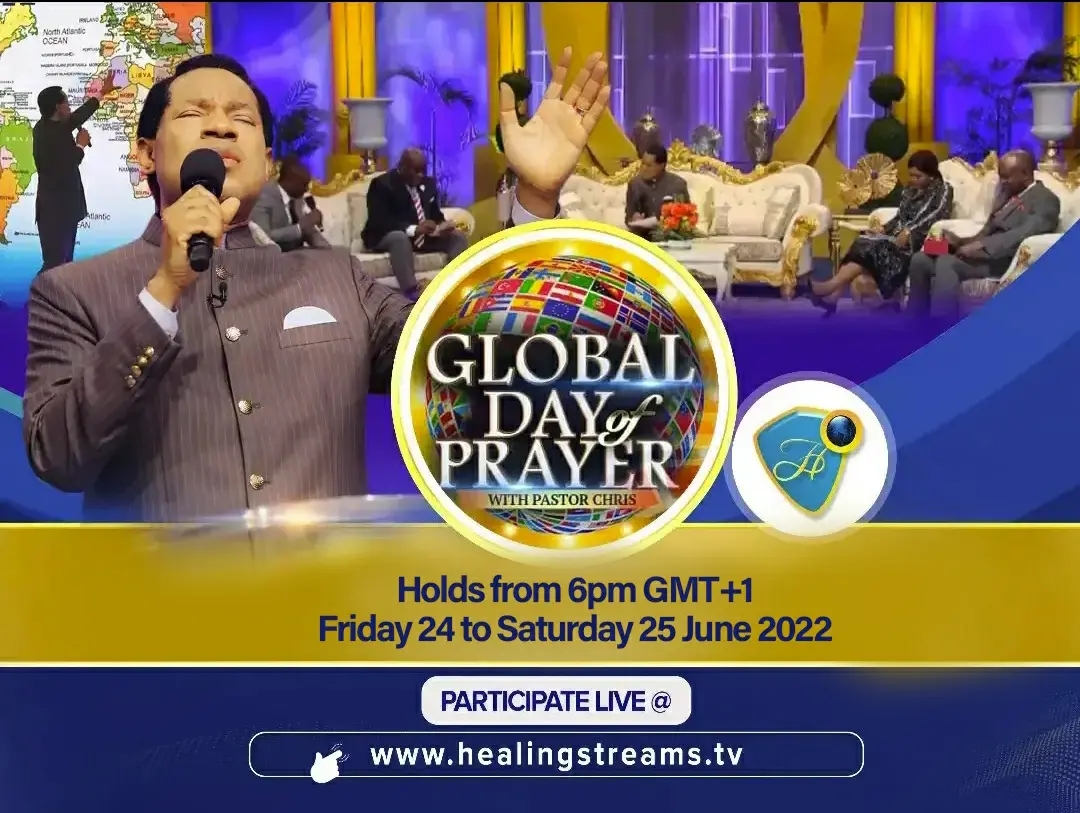 The Global Day of Prayer with Pastor Chris is a season of heartfelt prayer for the nations and their leaders, and is also a time of worship and divine inspiration for the body of Christ all over the world.

It's the set time to reorder the courses of nations and bring God's will to pass as God's people pray everywhere in one accord. The June 2022 edition of the Global Day of Prayer is set to take the airwaves on a high note this weekend from 6 pm GMT+1 on Friday to Saturday, June 25-26, 2022.

This special online phenomenon will be reaching a global audience numbering in billions on the Healing Streams TV platform at www.healingstreams.tv, the Healing School mobile app, and on all Loveworld Networks.

Coursing through various parts of the globe, the prayer chain will continue unbroken for 24 hours as ministers of the Gospel from Loveworld and other ministries take turns with the prayer baton and lead God's saints in fervid sessions of prayer and exhortation.

Glorious expectations precede what is about to be an outpour of unlimited blessings to people worldwide. Sharing her expectations for the program, Laura Chretien from Canada says: "I'm so excited and charged up for this Global Day of Prayer. I am expectant that the prayer by the saints of God will make power available by the Spirit. We are going to see exponential changes all over the globe, to the power and glory of the Lord, in the Name of Jesus Christ. The devil doesn't stand a chance against the Church."

The previous editions of the Global Day of Prayer resulted in remarkable changes across the world and this edition will no doubt be more impactful.

Tell one, tell all; invite your friends, family, neighbors, colleagues, and associates. Clear your schedule and be ready to cause birth transformations and establish God's will in the earth.

Tick your readiness checklist for the program by: Confirming your participation Creating a virtual center to host your invitees Sponsoring the live broadcast

Visit:  www.healingstreams.tv for more information.