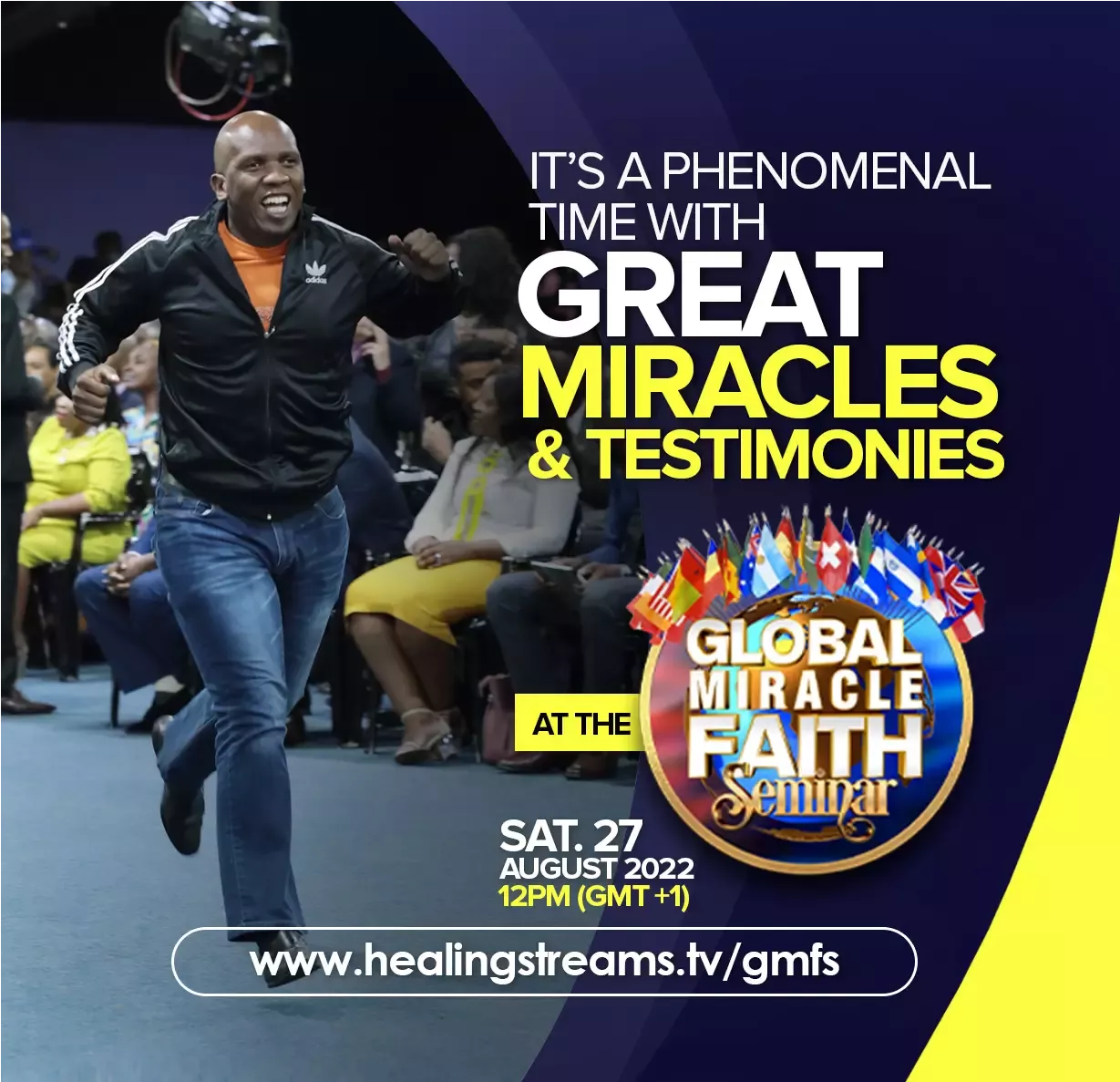 Glory! The Global Miracle Faith Seminar is here again! This special program is designed to deliver God's Word to you concerning your health and lifestyle of faith. It will feature stirring times of the Word, moments of worship, and inspiring testimonies from people all over the world who encountered the healing power of God from participating in various programs of the Healing School.
Interested in participating? Please visit: www.healingstreams.tv/gmfs to register.
The next edition of the Global Miracle Faith Seminar holds this month of August from Saturday, 27th to Sunday 28th. It will be streamed live to a global audience on the Healing Streams website @ www.healingstreams.tv/gmfs or on the Healing School mobile app.
In the course of this life-changing program, expect to receive a miracle as the Word comes to you; be it in your health, finances, family, or any area of your life where you need a touch from God. It promises to be a celebration of wonders, testimonies, and blessings.
Past editions of the Global Miracle Faith Seminar saw many testify of glorious healing miracles and peculiar changes that took place in their lives as a result of their participation.
Sharing his testimony from the April 2022 edition, Joe from the Netherlands says: "I got amazing revelations while Reverend Ray was ministering. It is beyond words. Before this program, I was determined to deal with certain issues that had come up in my body. While on it, I saw the notification that the Global Miracle Faith Seminar was on and I connected. While participating, I acted on the Word and received healing in my eyes instantly. A growth dematerialized and some other pains left my body. Thank you so much Healing School for the beautiful event. Indeed, the Word works."
Also from South Africa, Mxibisi says: "Months ago, I was diagnosed with a cancerous tumor in my lower abdomen. But as I was watching the Global Miracle Faith Seminar, I felt a warm sensation and I vomited. Later on, I visited my doctor for a check up, and he confirmed that the tumor is gone! I'm healed completely. Glory."
It's your turn to testify and your set time for a miracle! Join us in this extraordinary time of fellowship as we reach many across the world with God's healing power. To participate, register @ www.healingstreams.tv/gmfs
Start making plans to participate. Also remember to invite your family and friends.
Stay connected to this website for more news updates.