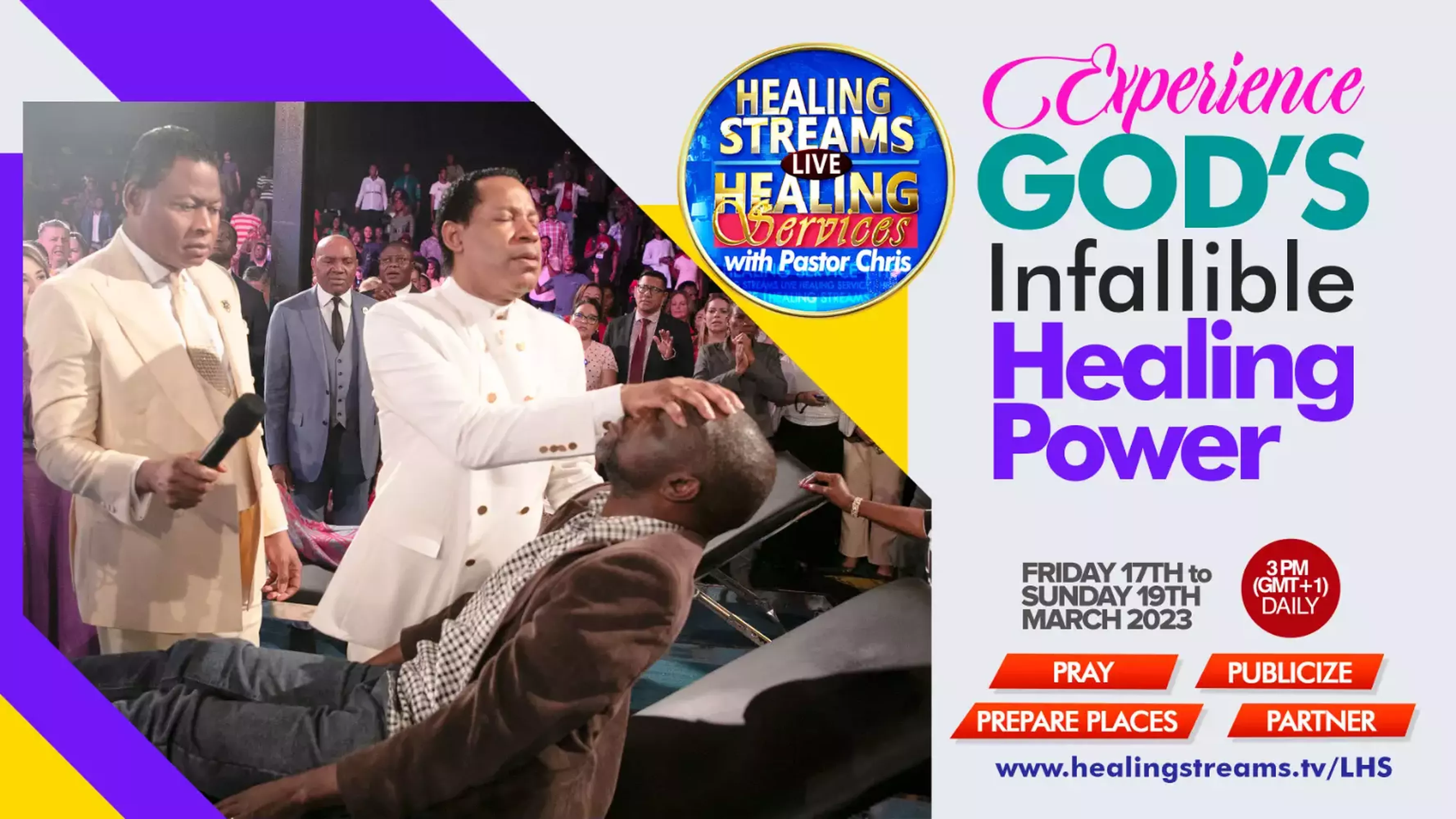 The Healing Streams are flowing again! Come March 17th to 19th from 3.00 p.m. (GMT+1) daily, the all-encompassing love of God will orbit the nations once again curing His people of variant illnesses and diseases.
Are you a part of this great move? Participate In The
Healing Streams Live Healing Services By: • Inviting someone to register at:www.healingstreams.tv/zone/LHS
• Picking a prayer slot at:www.healingstreams.tv/prayer
• Setting up a healing center at:www.healingstreams.tv/virtual
• Giving towards the program at:www.healingstreams.tv/parner
The Lord has so much lined up just for you, your loved ones, and all your invitees! This is God's set time for healing, restoration, health, and wellness for billions around the world.
"The power of the spirit of GOD will envelope this world, and from any nation and every nation, anyone can be healed. No case will be too difficult; none will be too bad to reach. Everyone can be healed!" ~Pastor Chris Oyakhilome The recent past edition of the Live Healing Services which held in November 2022, transformed the lives of billions and testimonies are still pouring in. Sixteen long years was how long Mercia Els from South Africa suffered the debilitating effects of muscle dystonia, a disorder that causes involuntary muscle contractions, leading to twisting movements.
When Pastor Chris prayed for Mercia during the November Healing Streams Live Healing Services, her body was restored in an instant. She says, "The spasms and the pain in my neck, shoulders, and back are all gone. I haven't had to take painkillers since I got healed. I am very blessed, happy, and grateful."
The Lord is not done yet! His healing power will submerge the earth during this edition of the Live Healing Services with Pastor Chris. Divine health will spread to every corner and unending joy restored.
Join us via the Healing School Mobile App or healingstreams.tv daily at 3 p.m. (GMT+1) from Friday, 17 to Sunday, 19 March 2023 to participate in this glorious event. You can also invite everyone you know to join you! As God's blessings are more than enough to go around. Just in case you're yet to register or confirm your participation in the program, please visit:healingstreams.tv/zone/WEBMN
For the few hours the services would be streamed, endeavor to avoid every distraction as your miracle can come at any point, or time. Indulge in every segment of the program: praying, worshipping, lifting your hands, yielding to the direction of the Holy Spirit, and paying rapt attention to the ministration of the word by the man of God, Pastor Chris during the program.
As you prepare to receive your special miracle, remember these words from Pastor Benny Hinn, "The Healing Streams Live Healing Services will be an avalanche of miracles. A wave of the miraculous, healing rivers of fire will flow everywhere."
We look forward to receiving your testimonies here: healingstreams.tv/testimonies God bless you!