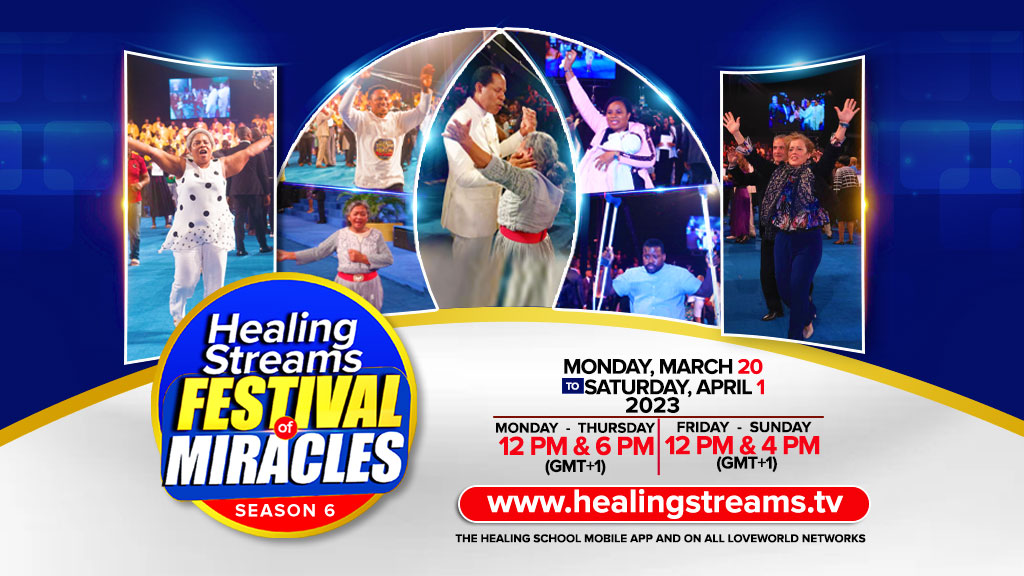 Undoubtedly, the Healing Ministry of Pastor Chris Oyakhilome has brought divine health and perfected Christian living across the nations. Through the Healing Streams, great, joy, excitement and jubilation have filled the atmosphere.
The expectations for the March 2023 Healing Streams Live Healing Services with Pastor Chris which was held from Friday, 17 March, to Sunday, 19 March 2023 were simply palpable. These Services have become a reference point as it was a date of metamorphosis in numerous homes, hospitals and families.
Healing Centers around the world recorded mind-blowing testimonies, near-death experiences were reversed in a split second, deaf ears popped open, the lame leapt and mental health was restored to the mentally changed.
In celebration of these inconceivable miracles, The Healing Streams Festival of Miracles kicks off on Monday, 20 March – Sunday, 2 April 2023! A fortnight of excitement and bursting joy.
The Festival of Miracles is in its sixth season and features the following: live testifiers recounting their ordeals and miracles received, testimonies from the just concluded Live Healing Services with Pastor Chris, impact reports from Ministers of the Gospel around the world, prayer sessions and times of praise.
The glory of this seventh edition of the Healing Streams surpassed all other editions. The power of God enveloped the earth yielding a wealth of blessings and for the first time, the Festival of Miracles will air 2 episodes daily on Mondays - Thursdays at 12 p.m. and 6 p.m. (GMT+1) and Fridays – Sundays at 12 p.m. and 4 p.m. (GMT+1). These will all air right on Healing Streams TV and the Healing School Mobile App!
Hearing these exploits of faith and divine turnarounds arouses a spirit of thanksgiving and praises to the Lord Jesus Christ, for heralding a season of love and beauty through the Healing Streams Live Healing Services.
It'll be a time to thank the Lord for the likes of Mary. A young lady from Cyprus suffered from a stroke, rendering her incapacitated. While Pastor Chris ministered at the Live Healing Service, she regained the ability to move her body freely!
Young Ayalguu from Mongolia is also one to be grateful to the Lord for. This little girl had been unable to open her right eye for two weeks; the pain was unbearable. Her sight was restored and the pain disappeared as the man of God ministered.
The devil was grossly shamed as stage 4 breast cancers were demystified, dislocated bones were corrected, sores dried up and pains ceased.
There's so much more you need to hear! You'll get to watch them first-hand at the Festival of Miracles. As you participate, keep in mind that it's a glorious opportunity for you to receive more blessings from the Lord. You will be inspired, empowered, and transformed. Get ready to be thrilled!