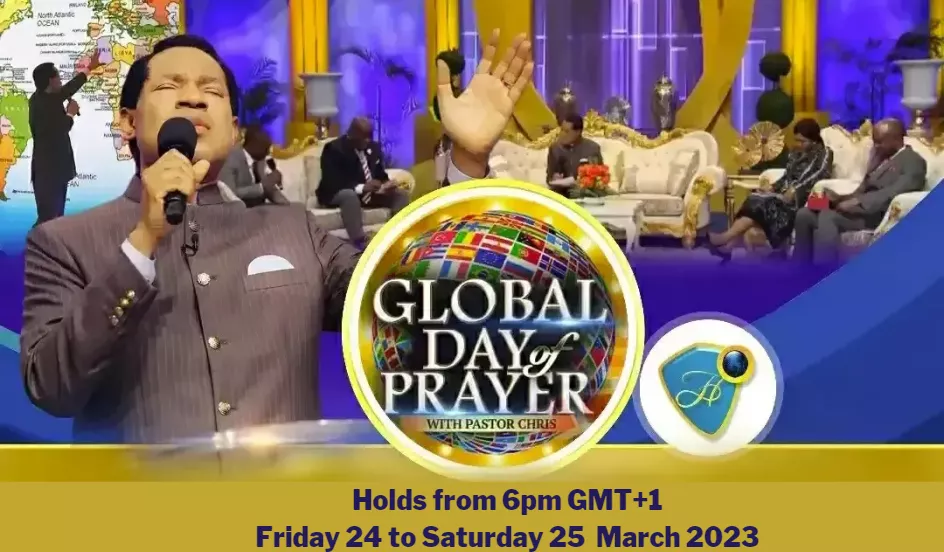 What started by Pastor Chris Oyakhilome and Pastor Benny Hinn in a crucial time, when the world was in a frenzy and needed God's direction, amidst the COVID-19 fiasco, the first edition of the Global Day of Prayer ignited comfort, peace and encouragement to the billions who participated.
The impact of the Global Day of Prayer has continued to be felt worldwide. Running in its thirteenth edition, another Global Day of Prayer with Pastor Chris is here! This 24-hour non-stop time of prayer commences on Friday, 24 March through Saturday, 25 March 2023.
Warm up for a superlative session of prayers with Ministers of the Gospel, Christians and scores of individuals around the globe. Fervent and intercessory prayers will be offered for God's will to continuously prevail as the saints await the second coming of Christ.
There's so much power wielded by the new creation and prayer is one of the ways to exercise this God-given power.
"Mercy will be brought into a nation if her people pray. There are those who are charged with the responsibility and authority to pray and make things happen the way they should happen," ~ Pastor Chris Oyakhilome.
This is another opportunity to corporately pray for institutions, nations, leaders and people in different countries and continents. God's truth will be revealed and much more changes are going to be made as God restores the nations as he has promised in His Word.
Make sure you represent your country. Get ready to declare God's will over your country, state, city and locality. With your words, you can resist the work and evil plans of the devil.
It's time to pray from your position of authority. Join fellow Christians around the world as we cut off the manoeuvers and tactics of the devil over leaders and rulers.
You can participate live on Healing Streams TV or the Healing School Mobile App The event starts with an opening session led by the man of God Pastor Chris on Friday, 24 March 2023 @ 6 p.m. (GMT+1). The program continues with 30-minute prayer sessions led by Ministers of the Gospel in various continents. With a concluding session led by Pastor Chris at 6 p.m. (GMT+1) on Saturday, 25 March 2023.
Extend this to your loved ones through the virtual center platform. You can create a unique link here: healingstreams.tv/virtual, share with your loved ones and pray together during this 24-hour program.
The most beautiful part is in the answers. God always hears us and responds when we pray! There will be great rejoicing and celebration of answers to prayers across the globe. As you prepare to attend, get set for the fulfillment of prophecies and the global impact of March 2023, Global Day of Prayer with Pastor Chris.