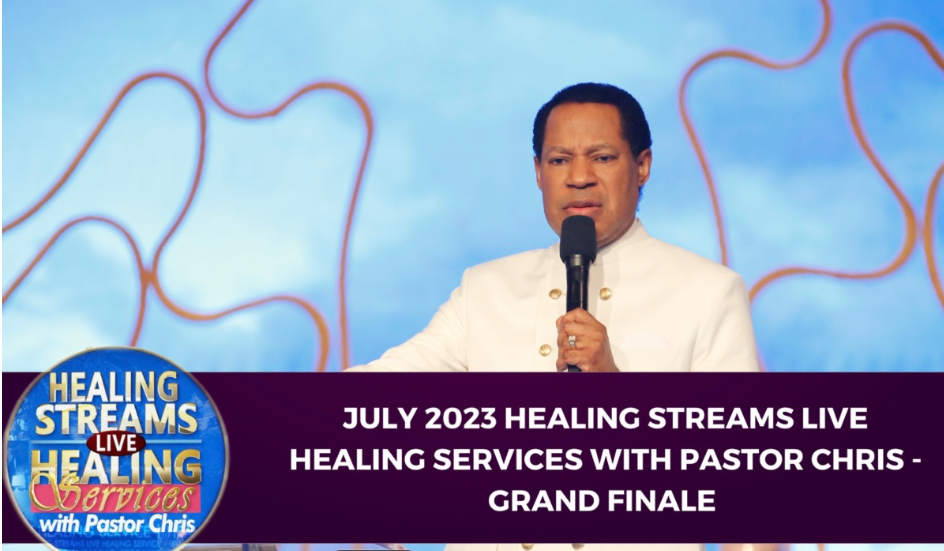 The culmination of an incredible weekend of blessings, divine healing, and awe-inspiring wonders drew to a magnificent close on Day 3 of the Healing Streams Live Healing Services with Pastor Chris Oyakhilome.
Salvation reigned as billions of attendees from every race witnessed and experienced the actualization of God's Word in their lives. Participating hospital wards were empty, and myriad diseases and disabilities that had defiled time and medical solutions succumbed to the unrivaled power of God, birthing testimonies from several countries, including China, Guadalupe, the Federation of Micronesia, Ethiopia, Nigeria, India with more still being recorded.
The finale commenced with Pastor Deola Phillips, Director of the Healing School, emphasizing God's ability to do anything; "With God, nothing is ever impossible. Don't accept any impossible report, circumstance, or any impossibility whatsoever. No word that God speaks is impossible, and this program is all about God sending His Word to you. Believe!"
Inspiring increased faith and expectation, Rev. Tom, a senior minister of the Healing School, reminded attendees, "God wants everyone well. If it is so, then you should want "you" well. Take advantage of every aspect of the service to receive your miracle. There is nothing the devil can do to stop you. Let nothing stop you and don't stop yourself".
The airwaves reverberated with palpable excitement as attendees of previous editions shared testimonies birthed through the Healing Streams Live Healing Services and the Healing to the Nations Magazine live on set. Rounding up the segment, Evangelist Dr. Eddy Owase bid attendees, "Your moment has come! Refuse to be in this condition that has kept you the way you are. You can come out of it now because God's power, that power you need to change it, is available to you now."
Excitement welled as the man of God, Pastor Chris, arrived and immediately began dispensing healing to all needing it. Financial, physical, and spiritual healing miracles began to occur instantaneously worldwide as he cast out demons of pain, sickness, and torment in the name of Jesus Christ. Continuing his teachings on the personage of Jesus Christ and his gospel, Pastor Chris Oyakhilome said, "The Bible is the source of ultimate truth and the only truth there is. Only Jesus Christ has the power to save you from your guilt by bringing you into friendship with God. When you know Jesus Christ, your life takes on a new meaning. You are more confident because you live by a different set of rules, and the things that oppress and destroy other people cannot destroy or oppress you. Jesus is the true light; without Him, you can only live under the wrong light. The moment has come for a change in the nations. That change begins now; today is a day of healing, repentance, and freedom!
Finally, the climax of the service was at hand as the man of God, Pastor Chris, prayed especially for the families and countries. Declaring all limitations broken, he commanded peace and prosperity for participating families and countries. He prayed that countries have leadership that characterizes the love and blessings of God and not the wickedness of man or the sins of the people.
Highlights of Day 3 testimonies include Tahira from Pakistan, whose leg had been completely lifeless from poliomyelitis for twenty-eight years. As a result of her faith and participation in the program, she received her healing and walked again before the stunned eyes of all.
Another striking testimony is that of a flight attendant who saw her monthly flow after two years of seizure as she participated in the program en route from Italy. Anna Maria got healed from facial paralysis that lasted for eighteen years. As a result of this predicament, she could not open her mouth. While participating in a Healing Center in Venezuela, she suddenly discovered she could now freely move her face.
The sights and sounds from the grand finale and the entire weekend of the Live Healing services will undoubtedly live on the minds of all who were opportune to witness the spectacular divine feats wrought. Suffice it to say that miracles are real, and the Word of God has been shown to have supremacy over all circumstances without a shadow of a doubt.
Watch full recounts of inspiring testimonies at Live Services this weekend on Healing Streams TV on the Festival of Miracles from today to Sunday, August 13, 2023, from 6 PM (GMT+1). You also have an opportunity to still partake in the July Healing Streams Live Healing Services with Pastor by watching the rebroadcast of the program on www.healingstreams.tv or the Healing School Mobile App.
For further information, please send an email to [email protected] or call centers via these numbers: +27799675852 (South Africa), +234(1)8885066 (Nigeria), +18327249390 (USA), +12896221634 (Canada), +44(0)3331880710 (UK), +919650096633 (Asia), +917794993762 (India).