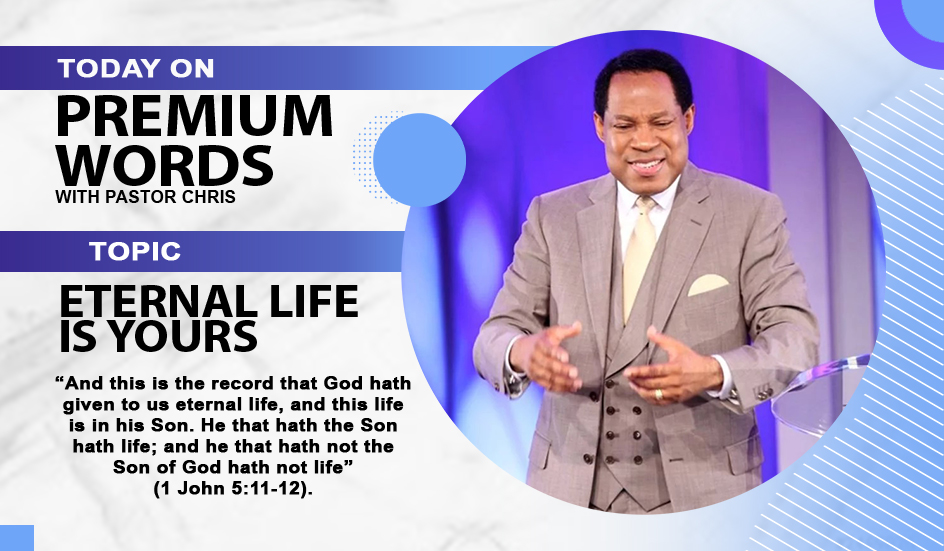 Some Christians think they'll begin to live eternal life when they get to heaven. If you think that you'll miss out while you're here on Earth! Eternal life starts right here on Earth. John said, this life–eternal life–is in God's Son, Jesus, and whosoever has the Son also has this life. He was simply reiterating the words of the Lord in John 5:24-26 where He said, "…as the Father hath life in himself; so hath he given to the Son to have life in himself."
If you've confessed Jesus Christ and made Him Lord of your life, then His very life has been imparted to you and will dominate you. When Jesus came into your life, light came in and all the darkness left. Now that He resides in you, your life has ceased to be an ordinary human life. For you, eternal life has already begun right here on Earth.
This is what we have; this is who we are, and we must always be conscious of this identity. We're not ordinary people. We are born in God's class of being, we have an inheritance in God. We have the essence of divinity, which is the eternal life of the Almighty God, in us. Hallelujah!
All we need to do now is stick with God's Word and keep saying it. 1 Timothy 6:12 says, "Fight the good fight of faith, lay hold on eternal life, whereunto thou art also called, and hast professed a good profession before many witnesses." The underlined portion of that verse, as rendered in Greek, is 'epilambanomai'. It means to take hold of something without letting go. Here, the Apostle Paul says, "Don't just be aware that you have eternal life; seize eternal life; take possession of it." In other words, don't let it be merely theoretical knowledge to you.
Someone may be singing, "I've got the life of God in me…" but he's neither walking in the consciousness of that life nor acting like it. Every now and then, he gripes, "You know, I've had this migraine headache that has been with me for fifteen years." No one who's taken hold of eternal life talks like that. Eternal life is the God-life; it's incorruptible. It can't be tainted, defiled or corrupted by sickness, disease, failure, death, or the devil. It's divine life. In God's eyes, you are already perfect, even though you might be going through trials, pains, and difficulties. To Him, you've been perfected in Christ Jesus. He sees you the way He sees Jesus. In His sight, there's nothing wrong with you.
Therefore, align yourself with His thoughts and visions, through the Word, and declare, "I'm perfected in Christ Jesus; I refuse to accommodate any sickness, disease, or pain in my body because I have the life of God in me! I've taken hold of eternal life." You're an associate of the God-kind; the life and nature of God have been imparted into your spirit. Now that you're born again, you have eternal life in you. You're not going to have it after you've prayed and struggled to please God. It's in your spirit now! Live in this consciousness and stand up to who you are in Christ.
Keep declaring what you have and, before long, it will become evident for all to see. Notice that, 'saying' or 'declaring' is a continuous process, it's not something you do just once, a few times or once in a while; there must be consistency to it. No heir says he is an heir one day and tomorrow forgets his heritage. He maintains that consciousness, and that way, nobody can deny him his inheritance. You are an heir of God and eternal life is your inheritance. The Divine Health Confessions are specially curated to keep you confessing the right words daily. Visit https://enterthehealingschool.org/dhc or the Healing School Mobile App for each day's dose.