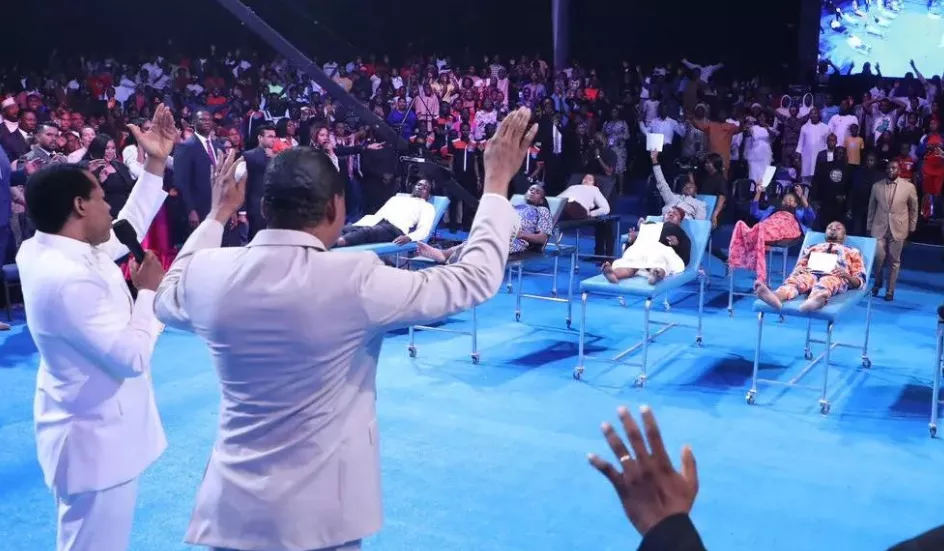 The curtains closed on an extraordinary weekend brimming with celestial blessings, miraculous healings, and awe-inspiring wonders on the final day of the Healing Streams Live Healing Services with Pastor Chris Oyakhilome. The stage was set for divine revelations and unparalleled transformations as countless individuals, irrespective of race, experienced the tangible manifestation of God's Word in their lives. Across various nations, hospitals previously brimming with patients now stood empty, as diseases and disabilities that had defied conventional solutions bowed to the unrivaled power of God, paving the way for a flood of incredible testimonies from all corners of the globe, including China, Guadalupe, the Federation of Micronesia, Ethiopia, Nigeria, India, and many more still pouring in.
This spectacular grand finale recorded people in attendance from every known country and territory. To bridge the language gap, this program was translated into 8,130 different languages and dialects.
In the opening moments, Pastor Deola Phillips, the Director of the Healing School, echoed the words in Jeremiah 29:11 (AMP) as she revealed to the audience God's benevolent love for them, "God has thoughts and plans for you. His plans for you are for your welfare, your peace, your healing, your restoration, and for life to come back into that situation. All you need to do today is to agree with God's thoughts."
Esteemed Rev. Tom, a senior minister of the Healing School, inspired attendees to leverage every aspect of the service to receive their long-awaited miracles, emphasizing that nothing could hinder them except their own hesitation. He went on to share some testimonies received so far.
The airwaves reverberated with excitement as previous participants shared their life-changing testimonies, both from the Healing Streams Live Healing Services and the Healing to the Nations Magazine, igniting a wave of faith and anticipation across the global audience.
Prophet Valerie from Cameroon was among those who shared their remarkable testimonies. For 6 years, Prophet Valerie lived with tuberculosis, liver failure, kidney failure and kaposi cancer. The effect of these ailments was truly disheartening as Prophet Valerie was unable to stand or walk and a smelly discharge proceeded from his body. He testified of how he got healed at a Healing Center.
Evangelist Dr. Eddy Owase, who anchored this segment, closed with words filled with hope and encouragement, igniting a spirit of determination among all present to step out from any limiting condition through the accessible power of God.
The momentous arrival of Pastor Chris signaled the commencement of an unparalleled outpouring of healing. Instantly, financial, physical, and spiritual miracles swept across the globe as he cast out demons of pain, sickness, and torment in the matchless name of Jesus Christ.
Continuing his profound teachings on the personage of Jesus Christ and true Christianity, Pastor Chris illuminated the boundless love of God for humanity. He said, "Jesus didn't come because we were many, but because we were valuable to Him." He described Jesus as Christ, the Messiah: one who is anointed by God, sent by God and God in human flesh. Pastor Chris explained how important it is to believe in Jesus as the Son of God, "if you'll believe this all the blessings he promised will be made available to you."
The pinnacle of the service arrived as Pastor Chris offered heartfelt prayers for nations and their leaders and families, invoking peace and prosperity upon the participating countries. His prayers fervently sought divine leadership marked by God's love and blessings, steering nations away from the clutches of human wickedness and the sins of the people.
The memories of the grand finale and the entire weekend of the Live Healing Services will undoubtedly linger in the hearts and minds of all who bore witness to the profound divine interventions. The event affirmed the undeniable reality of miracles and the unrivaled authority of God's Word over every circumstance. Remember to keep visiting Healing Streams TV, the Healing School Mobile App and Enter the Healing School website regularly to relive and witness more of these testimonies as they continue to unfold. You can also get more updates from our monthly Healing to the Nations Magazine; this month's edition is available here: enterthehealingschool.org/imagazine God bless you!