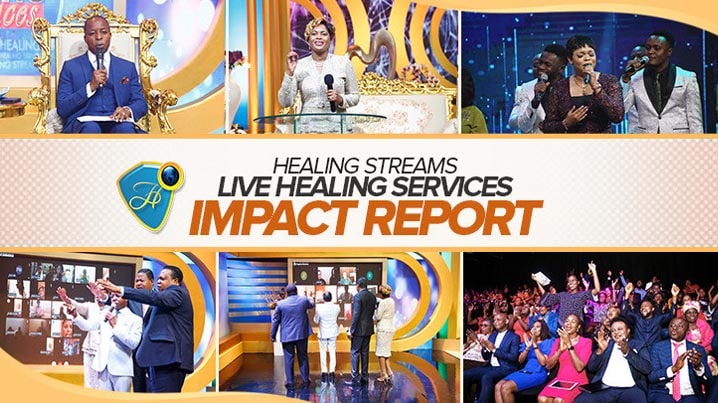 14th December – 16th December marked a significant turning point for all who participated in the Healing Streams Live Healing Services. Truly, these were days of destiny for all those who required healing in their bodies and others who needed a divine touch of God in their lives and circumstances.
The program had billions connected together in an atmosphere of faith from different parts of the globe, both online and on-site from viewing centers.

Welcoming the global participants to these glorious services, Pastor Deola Phillips, CEO, Loveworld Inc. and director of the Healing School said, "I want you to know that today is a special day and anything is possible here. It doesn't matter how far things have gone. The Bible tells us about God's love for us and His capacity to do us good." Sharing from Psalm 107:17-20, she expounded on God's desire for all men to live in health.

"In these meetings, God's Word will be coming to you on a mission and it will do exactly what it did in the Scriptures. God's Word is coming to you being sent by God from the lips of the ministers of the Gospel, who are going to share God's Word with you and give you spiritual instructions that will come to pass because they are coming in the name of Jesus" She added. These words set in motion an overflow of miracles.

The Word of God was ministered to everyone in the global audience in every session by the senior ministers at the Healing School, highly esteemed Rev. Tom Amienkhienan, Evang. (Dr.) Eddy Owase, and Rev. Ray Okocha.

Enefiok Inaku who was healed at the previous edition was also present on set to share her healing experience with the global audience, and to whet the faith of all those who were waiting in line to receive their miracles. Having received healing from breast lump and anxiety, she's free to live her normal life in absolute health.
Faith gave substance to the hope of the global congregation as many experienced their moments of miracles following the release of power when the senior ministers ministered faith-filled words.

Mantha had suffered from lumbar disc herniation and disc degeneration. Thus, she was subjected to the use of a corset to hold her waist. The healing power of God went through her body as Rev. Tom prayed for her during the special live ministration to the sick who were connected online. She jumped off her feet, giving glory to God as she did the things she couldn't do before Countless testimonies were recorded throughout the days of this epochal event. Many who sent in prayer requests also sent their testimonies confirming their miracles.

Canada: "I have been healed! I participated in the healing service. I have had this reoccurring pain in my right arm and breast since 2018. I was feeling this burning sensation while prayer was going on and immediately the man of God said, 'Raise your hand and receive your healing', I immediately did, while in my car, and the pain subsided immediately. I have received a total restoration in my body. Praise be to Jesus!"

United States: "Glory to God! I am here in New York. While Rev. Ray Okocha was ministering, I started feeling the power of God all over my body. I received healing in my eyes and my lower abdomen. I am now living in divine health!"

Uganda: "I had not been hearing in my left ear for 21 years, but God has healed me. My ears opened as Pastor Deola prophesied about deafness being healed. Glory!"

Indeed, the Healing Streams Live Healing Services took the healing power of God everywhere, effecting miracles in many homes, hospitals, offices, viewing centers, and in every place where people connected. All manners of diseases bowed to the name of Jesus as the power of God touched people where they were. Many also received increased grace and re-alignment to fulfill God's purpose for their lives. Praise God!

Watch Healing Streams TV on www.healingstreams.tv or on the Healing School mobile app.