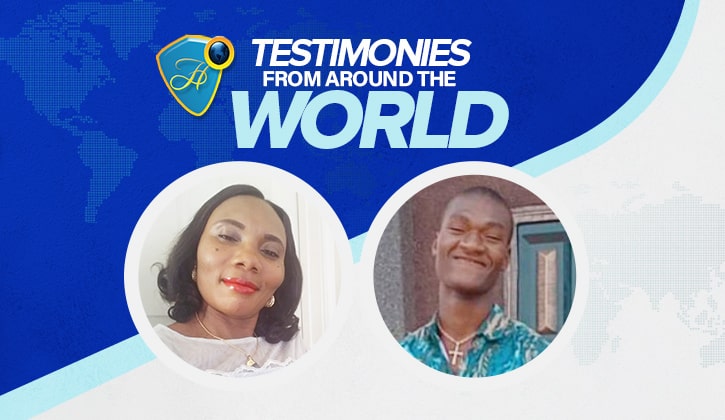 Ugochuwu Okpara from Nigeria: "I developed a bacterial infection about two years ago. The infection was resistant to the doctor's drug prescription and this affected me emotionally and psychologically. I lost my self-confidence and it became difficult for me to comport myself in public. A couple of months ago, I was invited to join the Healing School Prayer Network. I participated in one of the meetings and I felt the touch of the Holy Ghost. I began to experience tangible changes daily as I joined the prayer sessions and made faith-filled confessions. Indeed, the prayer times were so medicinal for me.
"I shared my testimonies with members of my family who were cognizant of my condition and invited them to also join the Prayer Network. To the glory of God, two of them received Christ, while the other who was a drug addict is now freed from drug addiction. The Healing School Prayer Network transformed my life and that of my family tremendously. I'm immensely grateful to God and Pastor Chris, for this amazing platform where we can be blessed. Hallelujah!"

Adaora Uche from the United States shares: "Two years ago, I was diagnosed with lung cancer. I started the chemotherapy. However, I knew in my spirit that this sickness wasn't unto death. I kept on declaring God's Word concerning my health. Later on, I was introduced to the Healing School mobile app and Divine Health Confessions (DHC) of the Healing School. The DHC strengthened my faith for my healing. And my condition started to improve drastically. I heard about the March Healing Streams Live Healing Services, I registered and participated with faith in my heart for a perfect healing. Indeed, my body was made whole. And my healing was absolute. Glory to God! I thank the man of God, Pastor Chris, for heeding the call to ministry."

To join the Healing School Prayer Network, and to be a part of the upcoming Healing Streams Live Healing Services with Pastor Chris, please subscribe to our weekly newsletter.