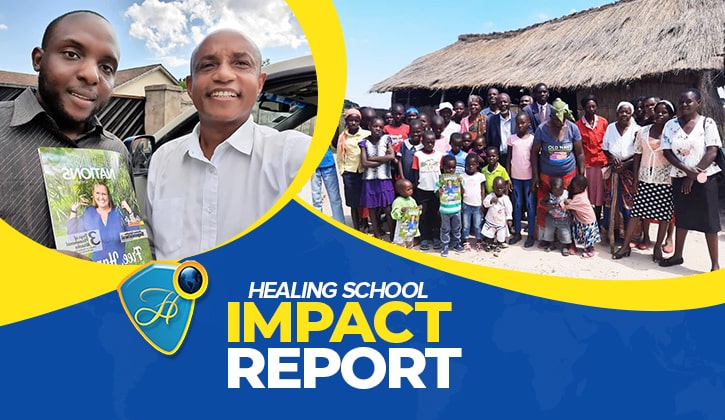 Matthew 28:19-20 says, "Go ye therefore, and teach all nations, baptizing them in the name of the Father, and of the Son, and of the Holy Ghost: Teaching them to observe all things whatsoever I have commanded you: and, lo, I am with you always, even unto the end of the world. Amen."

In a bid to spread faith despite the ongoing Covid-19 restrictions, a member of the Healing School Partnering Ministries from Zimbabwe, Pastor Cyril Siringwani, pioneered a visit to the residents of Bromley Farming Community, bringing the awareness of the Healing to the Nations Magazine to them, letting all beneficiaries know that God wants them well.

At the outing, Pastor Cyril ministered divine truth to the people, taking excerpts from the messages of the man of God, Pastor Chris, and the Healing to the Nations Magazine. The outreach birthed astounding testimonies as some of the people received healings and blessings.

For four years, Tabeth suffered from HIV, spinal cord disorder, amongst other ailments. The power of God went through her body as Pastor Cyril ministered healing to her; she burst out in tongues and she received her miracle instantly. She got a copy of the Healing to the Nation Magazine and was encouraged to keep her healing by proclaiming the faith-filled confessions therein. The next day she testified that, for the first time in a while, she slept like a baby without any pain. Praise God!

27-year-old Munashe suffered from bipolar disorder for 23 years and he was negatively affected by the side effects of his prescribed drugs. This resulted in him always hallucinating and unable to coordinate himself. As Pastor Cyril ministered specially to him, using the Healing to the Nation Magazine also, his body was restored and he was healed completely. His mother testified that his condition drastically improved afterward. He is now of sound health and mind. Glory!

The beneficiaries of this great meeting had an awesome time fellowshipping with Pastor Cyril and other members. He distributed free copies of the Healing to the Nations Magazine to every attendee, admonishing them to continually take advantage of it.

To read more exploits from Healing School Partnering ministers around the world, please subscribe to our weekly newsletter.