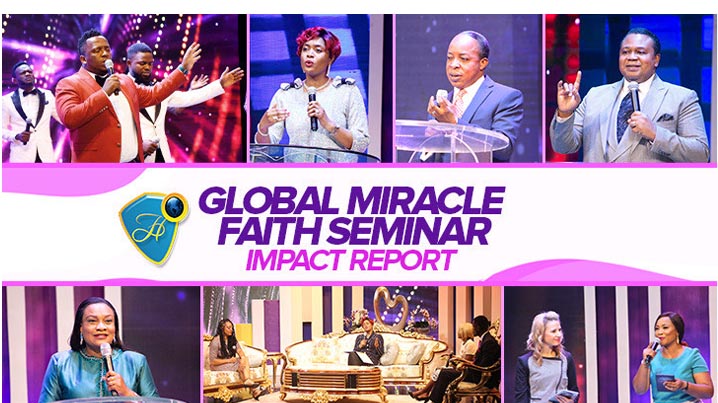 The May 2021 Global Miracle Faith Seminar was a stirring time of the Word, extraordinary moments of worship, and inspiring testimonies! It was a special time to resound the unending impact of the Healing School. With billions connected worldwide, the supernatural move of the Spirit was manifested resulting in healing miracles and testimonies.

Preparing the global audience to receive all that's in store for them at this glorious program, the highly esteemed CEO, Loveworld Inc., and director of the Healing School, Pastor Deola Phillips, shared about participating in the program with an expectation. "Many testimonies will come to you, as they do so, see yourself in every testimony. Pray as we pray, sing along as we sing. Don't miss your set time! The power of God is here today to address every situation that may have plagued you; this is your time to testify!" She added excitedly.

The vivacious Loveworld Singers led spirit-lifting songs of worship and praise, blanketing the teaming congregation in an atmosphere of glory and splendor.

Testifiers who had encountered the healing power of God as a result of their contact with the Healing School were on set to narrate the captivating stories of the victories they obtained by faith. They also shared about the supernatural growth and advancement experienced in their lives and ministry since their divine encounter.

Esteemed members of the Central Executive Council, Loveworld Inc, and senior ministers at the Healing School, activated the faith of the participants as they shared insightful revelation from the Word of God, making known the will of God concerning their health and wellbeing.
The esteemed Rev. Ray addressed the participants saying: "Your life is superior to Satan, superior to sin and disease. You can live above sickness and disease. This is the life we have in Christ. Jesus did all these for us so that we can live in it. We are more than conquerors. We've gone beyond celebrating the victory Jesus wrought for us. We live in the reality of it now. We have obtained the prize. You have power over everything that the enemy represents. Live in Christ's victory. The life God gave to us is a life of victory and triumph. Insist on that victory; it's yours."

Continuing along the same line, the esteemed Evang. Eddy Owase expounded on 3 John 1:2, "Beloved, I wish above all things that thou mayest prosper and be in health, even as thy soul prospereth." "There is a higher life, a life of victory, a life of grace, a life of excellence that God has called you to live and it's is important that you know this." He said.

Wrapping up each segment of exhortation, the senior ministers pronounced healing all over the world, mentioning diverse health conditions. Indeed, the power of God was manifested, creating an atmosphere of the miraculous in every location where people participated.

Happy Radithupa from Botswana took a hold of the prophetic word when Evang. Eddy Owase mentioned that someone with pain in the right arm had been healed. She knew the word was for her and she received it in faith. Happy received her healing instantly. Now, she can lift her hand properly. Hallelujah!

Pastor Deola Phillips declared words of blessing upon every participant as she encouraged all those who received healing to share their testimonies. The life-changing program came to a remarkable close amidst singing, dancing, and rejoicing for the destinies that have been re-written and the transformation that has taken place in the life of every participant worldwide. Glory to God!