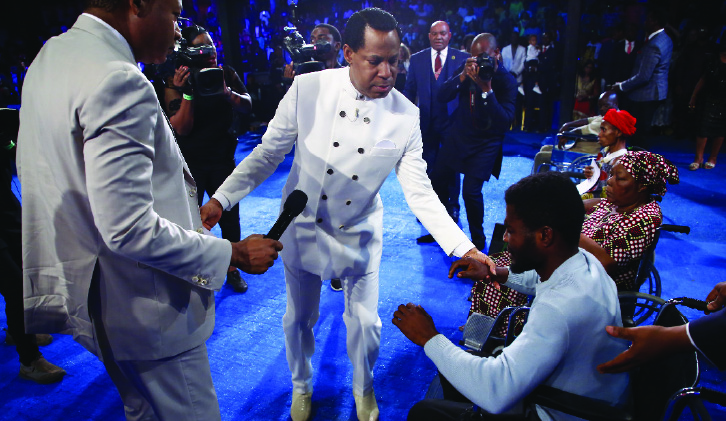 The just-concluded July 2021 Healing Streams Live Healing Services with Pastor Chris was beyond extraordinary. The program was one unending episode of praise and exultation. Exhilarating shouts of joy and victory celebrations earmarked every place where people were participating in the program. And the reason isn't far-fetched; God's mighty power and the presence of His Holy Spirit filled every healing center, be it physical or virtual.

Before the start of the epochal program, there was high anticipation across the nations for the advent of miracles. Individuals, church groups, organizations, and many more readied themselves and others by spreading the word and creating healing centers for ease of participation.

The program started with a welcome message by the Director of the Healing School, Pastor Deola Phillips. Reading the Bible from Ezekiel chapter 47 she drew a parallel between the water that issued from the temple in the prophecy and the streams of Healing that would issue from the Healing Streams Live Healing Services. Then, she made a strong call for everyone to come to this river, and to bring everyone they know with them.

In an uplifting talk show with the Director and senior ministers of the Healing School – Reverend Tom Amenkhienan and Reverend Ray Okocha – there was a review of the previous edition of the Live Healing Services, which was held in March 2021. As they shared the testimonies, they encouraged the present audience to have expectations and trust God to meet their needs.

Evangelist (Dr) Eddy Owase, also a senior minister at the Healing School, anchored a special segment where he featured various individuals who had been healed at previous programs. These testimonies inspired faith and heightened expectations.

Tovia suffered from a skin disease that resisted treatment; which irritated her skin and caused severe itching, resulting in wounds on her skin. Her parents' efforts to find a solution proved null and void. During the Healing Streams Live Healing Services with Pastor Chris in March, Tovia received her healing when the man of God declared children all over the world healed. Today, Tovia's skin is perfect. No more itching, scarring, or bruises!

The hearts of billions in the global congregation went up in praise to God during moments of marvelous music ministrations. All lifted holy hands and sang praises in joy and thanksgiving. The songs ministered power and life, such that some people began to receive healing and were freed from different kinds of diseases and infirmity.

In the ambiance of worship and exaltation, the man of God, Pastor Chris Oyakhilome, arrived. Beginning with ministrations of the Word, he taught a message titled, "Who Is In Your House?", expressing that the human body is only a house for the spirit of man, which is his true self. "Demons are spirits punished to not have bodies, and so they must enter a body to express themselves." This, he expounded, is the main cause for sickness, and that's why "One of the first signs Jesus said would follow those who believe is that they would cast out demons."

Having prepared their hearts to receive, the man of God ministered healing to the sick, with compassion and firm determination. First, he attended to a few who were present in the studio and needed healing in their bodies. Next, he instructed the audience to place their hands wherever they needed healing as he prayed, declaring all infirmities healed and every disease gone, casting out demons of affliction, and pronouncing wholeness to all.

There was a flood of miracles everywhere. Blind eyes popped open, the lame walked, spinal cases were healed, cancers and growths disappeared. Instantaneous miracles restored peace and joy to many, giving cause for much celebration and rejoicing in families and communities across thousands of cities in every nation across the globe.

Dennis from Ghana: "I got healed of pains in my testicle that had been on four years. When Pastor was ministering, I felt a sharp pain in my testicle through the waist and got relieved. Immediately the pain seized, I am healed. Hallelujah!"

Prince from Australia: "Glory to God. I am healed from ankle pain. Since I had a motorbike accident in 2010. I have been suffering from severe ankle pain due to a bone fracture. Anytime I attempted to wear heavy boots or shoes, my ankle would get swollen. During Pastor's ministrations to the sick, I got healed! No more ankle pain. Hallelujah!"

Faith from the United Kingdom: "I could not see at all from one eye following a stroke but as Pastor prayed, I received healing and my eye opened up. Now, I can see clearly from both eyes."

To date, the inflow of testimonies of God's love and faithfulness is still on. Currently, Healing Streams TV is running a 10-day live program called Healing Streams Festival of Miracles. This is a special showcase of some of the outstanding testimonies that have come in from the Healing Streams Live Healing Services from different parts of the globe. From 16 to 25 of July 2021, the Healing Streams Festival of Miracles will air from 4:00pm to 6:00pm (GMT+1) daily at www.healingstreams.tv and on all Loveworld Networks TV stations.

Truly, the July 2021 Healing Streams Live Healing Services is the greatest crusade the world has ever seen. What a glorious episode!

For more information on upcoming programs from the Healing School, please visit www.enterthehealingschool.org.