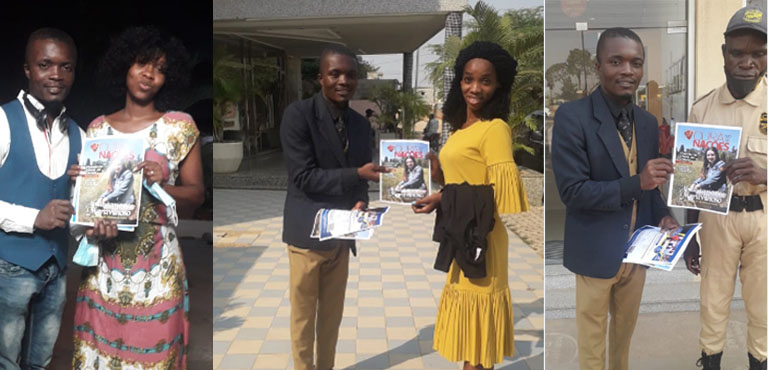 As customary to the Healing School Ambassadors' Network — taking advantage of every opportunity to preach the Gospel and win souls to Christ, ambassadors in Angola, led by Helana De Jesus, hosted a soul-winning outreach in Kilamba Kiaxi City.

The group shared the message of Christ's love to everyone they came in contact with, pointing them to Scriptures that reference the blessings of salvation and the importance of living for Christ, especially in these last days. The ambassadors also prayed for those who needed healing, proclaiming the healing power of God upon them. In the course of the outreach, several of them who were invited to the recent edition of the Healing Streams Live Healing Services participated and had their expectations met.

Linda was one such participant. She lived for six years with pain all over her body, which affected both legs. She was unable to walk, lift heavy things, stand for a long time, or do normal tasks at home. At the Healing Streams Live Healing Services with Pastor Chris, she received her healing and now, her life is back to normal. Her legs were restored to the glory of God. Also, her menstrual cycle that had halted for four months started flowing again.

Maria Luisa was also healed of a severe cough and the breathing problem she had suffered since she was a child. The power of God went through her body as the man of God ministered and now she's completely free.

Another testimony is that of João Luis. João was on his way to the healing center when he suddenly began to feel a sharp pain that made him uncomfortable. He managed to get to the venue of the program, and the moment he walked in, he received his healing as Pastor Chris was ministering to the sick.

It was indeed a remarkable outreach as the ambassadors ministered to souls and distributed several copies of the Healing to the Nations Magazine to them. When the call of salvation was made, nearly half of all those who were ministered to lifted up their hands, boldly confessing Jesus as the Lord and Saviour of their lives. Praise God!

Stay tuned to this website to read more impact reports from the Healing School.