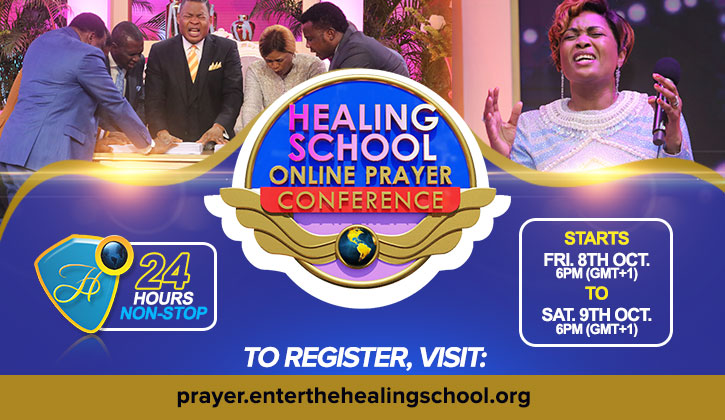 The Healing School Online Prayer Conference is a prayer program designed for partners of the Healing School and Christians globally to set things in order, for the nations of the world, especially for the sick and hurting through prayer. Coming up this October, from Friday through Saturday, 8-9, is the next edition of another momentous Healing School Online Prayer Conference. This 24-hour online prayer conference is set to be a time of great fellowship, testimonies, and miracles as we pray and make power available for change all over the world.

The past editions gave opportunities and platforms to fulfill prophecies and take healing to the nations. The mind-blowing testimonies recorded proved that it was nothing short of the miraculous! These were indeed special moments of a refreshing and life-changing encounter with the power of God for billions who participated worldwide.

Tanaka from China shares her experience, "Praise the Lord! The Lord is indeed gracious and kind. I participated in the Healing School Online Prayer Conference and as the program was about to end, Pastor Dipo prayed for the partners, and then, I made up my mind to start partnering. Since then, I noticed that my finances doubled as I sowed my seed. Glory to God!"
As the man of God, Pastor Chris, admonishes, "God asks us to pray because He intends to answer." Once again, it's that time to pray and receive answers! The invitation to experience the supernatural at the October Healing School Online Prayer Conference is open to everyone; families, people of all ages, and tribes. It promises to be an outburst of unprecedented blessings. Divine order will be orchestrated as God's people reorder the courses of many lives and the nations of the world with faith-filled words and intercessions.

Get ready for an awe-inspiring time of making a global impact through prayer. Register and invite everyone in your sphere of influence to register @ www.healingstreams.tv/prayer.

Watch this space for more updates about the Healing School Online Prayer Conference.