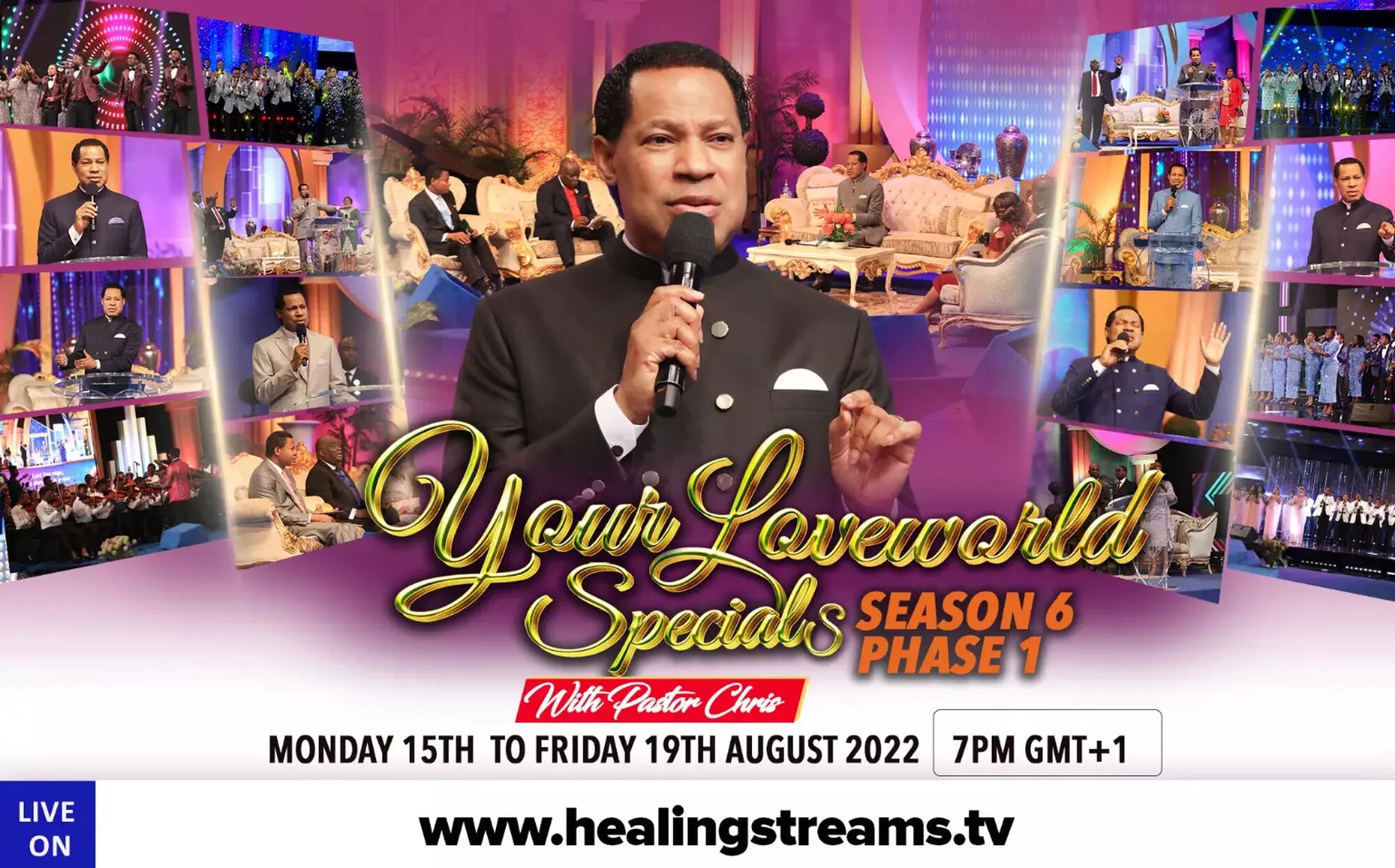 It's a new and refreshing season on Your Loveworld Specials. It's another exciting time to be plunged into higher realms of glory as you watch Your Loveworld Specials with Pastor Chris holding from Monday, August 15 to Friday, August 19, 2022.
This timely program will be beamed live on www.healingstreams.tv, the Healing School Mobile App, and on all Loveworld Networks.

Past episodes of Your Loveworld Specials have made a great significance around the world, and this upcoming phase promises to be more impactful as saints worldwide yield themselves to the Spirit in sessions of prayer, worship, and the Word. Pastor Chris will be sharing profound teachings from God's Word, and will be giving insights on the current happenings in the world.

Get ready to be edified, inspired and elevated to new and greater levels of God's Word throughout this phase of Your Loveworld Specials.

Sharing on what to expect at this edition. Pastor Chris says, "The Lord is doing something special all around the world today. Something marvelous is going on and there's a shift in the realm of the Spirit. I want to bring you up-to-date with some things that have happened recently and what those things mean in the kingdom of God. These things are vital. Wherever you are going to be watching this program, you're going to find that the power of God will be so manifested in an extraordinary way. Get ready, it's your time."

This is a time of spiritual order. Prepare to receive answers to your questions and sound counsel from God for your next and higher level.

Join billions around the world for Your Loveworld Specials with Pastor Chris, Season 6, Phase 1 @ www.healingstreams.tv or log on to the Healing School Mobile App at 7 p.m. (GMT+1) daily. Invite your friends, family, associates, and everyone around you to also participate in this life-changing program. Stay connected to this website for more news updates.