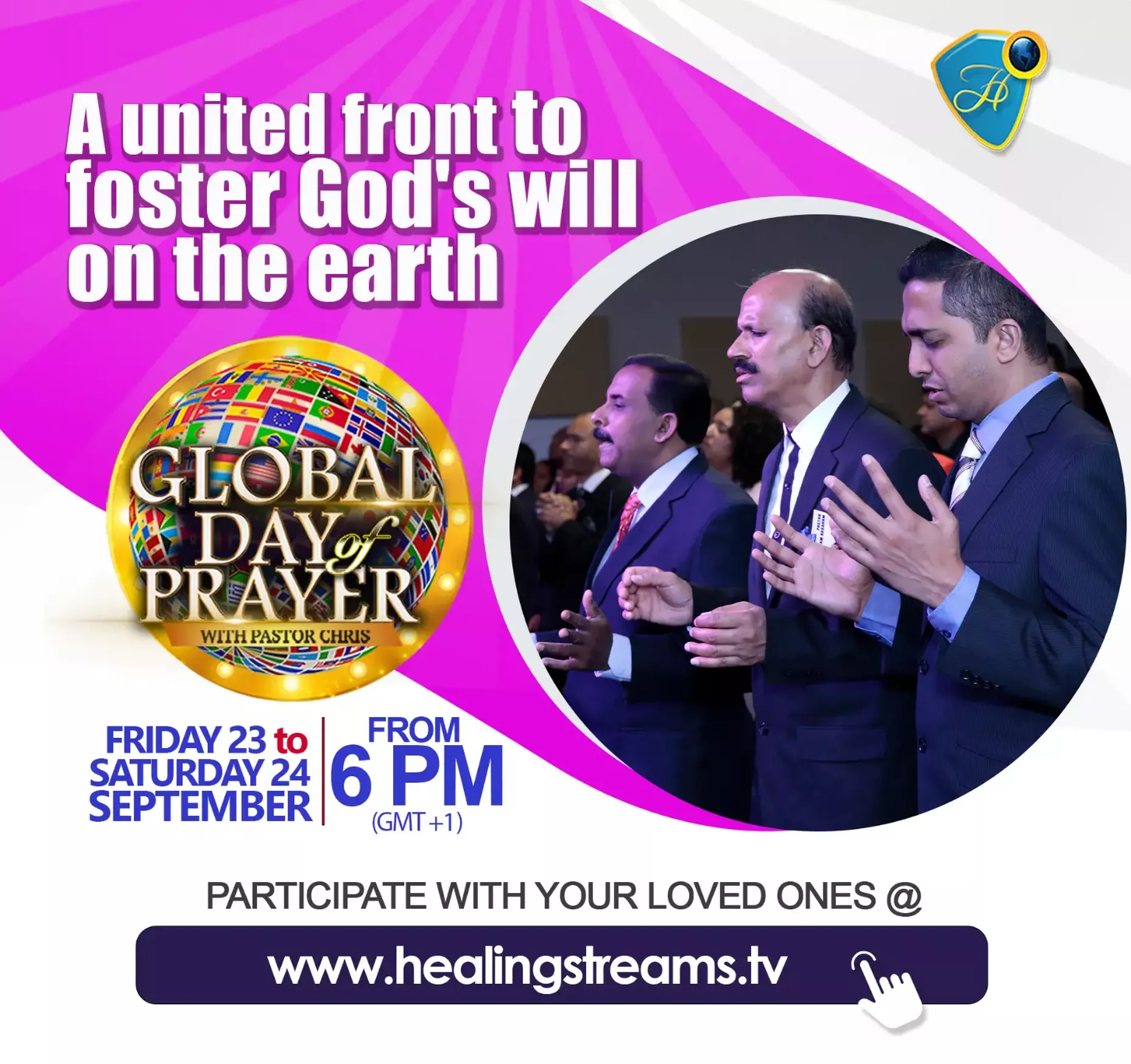 "When we pray, we use the codes and once we get to using the codes, nothing can stand against us successfully. We can't be defeated in this life. It's impossible" Pastor Chris.
It's happening again! It's another time for saints to use the codes - God's Word concerning the nations of the world. The September 2022 edition of the Global Day of Prayer is set to take the airwaves on a glorious note this weekend from 6 p.m. (GMT+1) on Friday, September 23 to Saturday, September 24, 2022.
This special online prayer escapade will reach a global audience on Healing Streams TV @ healingstreams.tv, the Healing School mobile app, and Loveworld Networks.
Expectations are soaring as people prepare to experience supernatural outcomes in this edition.
From Ottawa, Canada, Laura Chretien says: "I am so expectant for this twenty-four hour of prayer by the saints of God. It will make so much power available by the Spirit. We are going to see exponential changes made all over the globe, to the power and glory of the Name of Jesus. I am ready!"
Pastor Cyril from Home of Salvation Ministries in Zimbabwe shares his anticipations, "I am excited for the Global Day of Prayer. God wants us to pray because He wants to give us solutions; He wants to give us answers. He wants us to conquer and do mighty things, but the answer comes through prayer. As we pray at this program, the Gospel of our Lord Jesus will penetrate the corridors of power. Hallelujah!" He concluded by inviting everyone to be a part of this movement of the Church.
How to Participate:
⮚▪Confirm your participation by clearing your schedule now.
⮚▪Invite your friends, family, neighbors, colleagues, and associates.
⮚▪Create a virtual center to host your invitees @ healingstreams.tv/virtual
⮚▪Sponsor the live broadcast @ healingstreams.tv/partner
Visit: healingstreams.tv for more information.
The Global Day of Prayer with Pastor Chris will be a superlative session of prayer, exhortation, and the Word. Don't miss it!