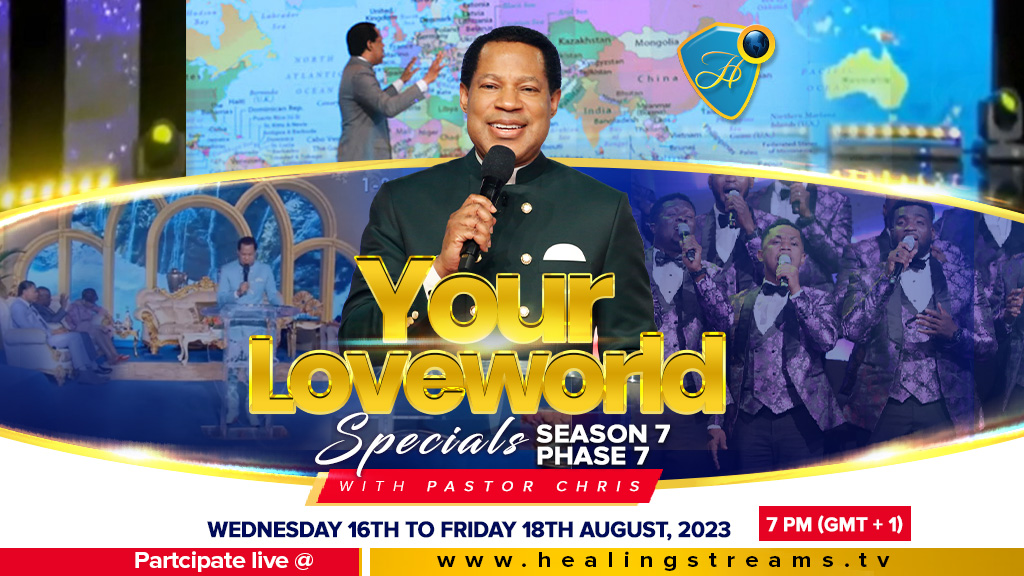 It's a new and refreshing phase of Your Loveworld Specials and another exciting time to get launched into higher realms of glory. Get ready for three days of revelation with Pastor Chris Oyakhilome at this unique phase of Your Loveworld Specials.
In every episode of 'Your Loveworld Specials with Pastor Chris,' the eternal essence of God's Word springs to life. Pastor Chris Oyakhilome (D.Sc., D.Sc., D.D.) is renowned for his profound teachings, fearlessly addressing spiritual matters as guided by the Holy Spirit. Through his audacity, Christians globally march in triumph, unmasking and dismantling the schemes of the deep state.
Season 7 Phase 7 of Your Loveworld Specials with Pastor Chris takes place from Wednesday, August 16 to Friday, August 18, 2023, at 7 p.m. (GMT+1) daily. This program will be broadcast live on Healing Streams TV and the Healing School mobile app.
This program also features prayer sessions for nations, leaders, and governance all over the world. Special documentaries revealing hidden agendas are also another major highlight of the program.
Pastor Chris also takes time to teach the Gospel of Christ. These teachings transcend age, social status, race, and even religious background, leaving an indelible impact on a diverse audience.
In a time where deception tries to rise, the only cure is TRUTH; this truth is from the Word of God. Participating in episodes of Your Loveworld Specials arms you with the much-needed knowledge to overcome and face these times.
Given the program's transformative impact on a global scale, we are thrilled to extend an invitation to you and your cherished friends, family, colleagues, and loved ones. Do encourage them to join each day as Pastor Chris imparts practical wisdom, urging believers to wield their God-given authority.
Host your guests on your Virtual Center – create your personalized link at healingstreams.tv/virtual and share your link with your invitees, and you're all set.
The dates remain Wednesday, Thursday, and Friday, August 16-18, 2023. See you there!