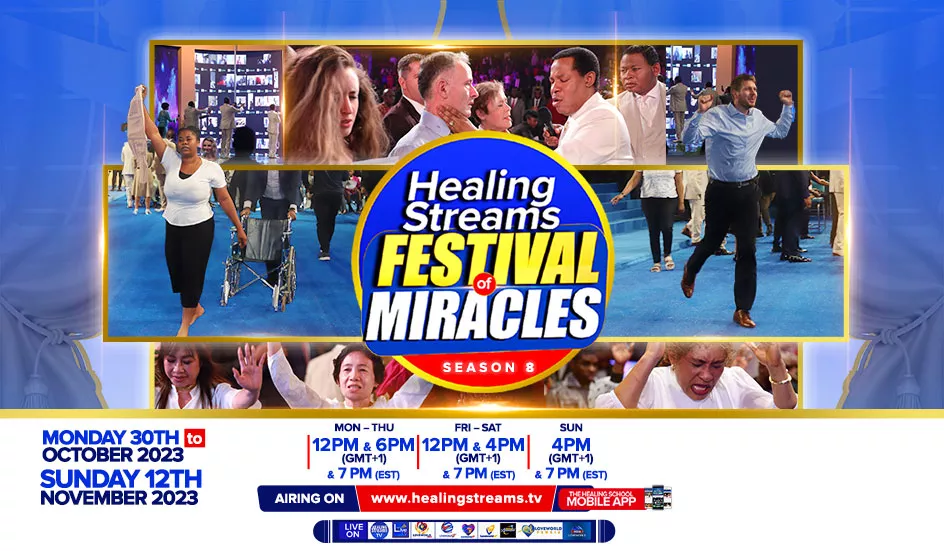 The Healing Streams Festival of Miracles is here!
It is a time to celebrate the harvest of miracles that took place during the just-concluded October edition of the Healing Streams Live Healing Services with Pastor Chris which held from October 27 – 29, 2023. The impact of the Live Healing Services was great and completely life-changing, with billions of people participating in thousands of languages of the world with a large percentage of them receiving healing, miracles, salvation, and answers to prayers. The Festival of Miracles is designed to showcase those beautiful testimonies of the wonders of God's love towards mankind. The program has been an awesome time of rejoicing and thanksgiving to God for His mighty works wrought through the man of God, Pastor Chris, in the lives of countless people around the world.
The program which is in its 8th season, airs on www.healingstreams.tv from Monday, 30 October – Sunday, 12 November, 2023. It will feature outstanding, creative, and faith-stirring testimonies from several people in various countries around the world. Many beneficiaries of the Healing Ministry of Pastor Chris will testify of the Lord's goodness and how they have been healed from diverse diseases and ailments such as cancer, blindness, deafness, paralysis, etc.. and also freed from the afflictions of devils.
The celebration of these testimonies began at the just-concluded Live Healing Services, where testimonies kept pouring forth. One of such inspiring miracles came all the way from Romania! Danielle suffered from a clostridium infection and a bad digestive sickness which came with many unpleasant symptoms. She had severe pains from her mouth to her large intestines and she had food intolerance for 6 months. As she participated in the Healing Streams Live Healing Services she was healed, and now her digestive system is back to normal, she feels no pains, and her body is functioning as it should. Hallelujah!
Also featured during the program, was the beautiful testimony of Angelo from Barbados who was healed of a severe spinal injury. Through faith, he rejected the discomfort of the injury and received his healing.
Several testifiers like these will be on air during the Festival of Miracles to share their amazing experiences, and we will continue to bask in the harvest of the Healing Streams Live Healing Services. You too can experience the unending flow of the miraculous in your life and situation by connecting to this ongoing Festival of Miracles.
Log on to www.healingstreams.tv by 12 p.m. & 6 p.m. (GMT+1) from Monday to Thursday, and 12 p.m. & 4 p.m. (GMT+1) from Friday to Sunday. God bless you.