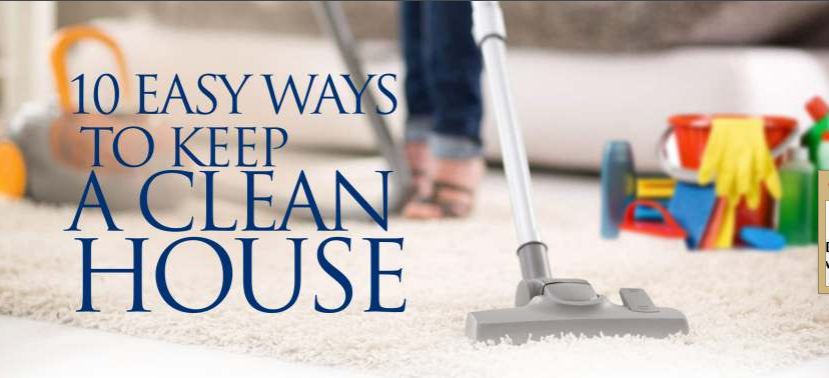 A clean and orderly home environment is crucial to one's general well-being. Good preventive medicine—the practical steps one should take to avoid disease and injury—starts with maintaining a safe and healthy home for you and your family. Humans interact with the environment constantly; so, maintaining a healthy environment is central to maintaining and improving your quality of life.

Your home should be a haven of comfort and safety. However, there are unseen dangers that may threaten your family's well-being. Chemicals, germs, viruses, and other pests can do you harm if left unchecked. In this edition, we'll share a few tips on what you can do to create or maintain a healthy environment in your home.

1. Keep a schedule: Create and maintain a regular routine for cleaning the house. It helps if you plan major cleaning activities a month or two ahead, highlighting what requires attention in each room of the house.

2. Keep it dry: Prevent water from entering your home through leaks in roofing or piping systems. Regularly check the roofs and plumbing for leakages.

3. Keep it clean: Control the source of dust and contaminants, and use effective wet-cleaning methods; this will create smooth and clean surfaces and reduce clutter.

4. Keep it safe: Store chemicals out of the reach of children and label properly. Secure loose rugs and keep children's play areas free from hard or sharp surfaces. Install smoke and carbon monoxide detectors and keep fire extinguishers on hand.

5. Keep it well-ventilated: Ventilate bathrooms and kitchens, and use whole house ventilation systems to supply fresh air and reduce the concentration of contaminants.

6. Keep it pest-free: All pests look for food, water and shelter, so make your home unconducive for them. Seal cracks and openings throughout the home; store food in pest-resistant containers. If needed, use sticky-traps and baits, along with pesticides such as boric acid powder.

7. Keep it contaminant-free: Reduce lead related hazards in pre-1978 homes by fixing deteriorated paint, and keeping floors and window areas clean using a wet-cleaning approach. 8. Keep it well-maintained: Inspect, clean and repair your home routinely. Take care of minor repairs and problems before they become large repairs and problems.

9. Keep it covered: Store food in tightly sealed containers; keep trash in a lidded container. Store what you can in boxes to prevent dust from settling on them.

10. Keep it organized: Put all items in their proper places. Carry out regular sorting to unclog your space. All irrelevant and nonfunctional items/gadgets should be done away with, to create a clutter-free atmosphere.